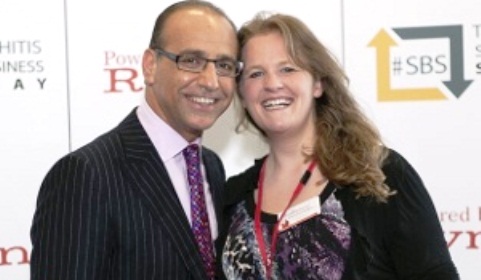 Nantwich radio entrepreneur Liz Southall met one of her heroes in Dragon's Den star Theo Paphitis.
Liz, founder of South Cheshire's Red Shift Radio, was at an event at Edgbaston Cricket Ground laid on by Ryman, whose head office is in Crewe.
It was the first event for the winners of Theo Paphitis' Small Business Sunday (SBS) competition from across the UK.
Liz was invited to join by friend and previous winner Sharon Lowe from Pure Emporia, specialists in natural skin and and beauty products.
"When I stood up to ask Theo a question he instantly recognised the name RedShift," said Liz.
"He totally made my day when he said he enjoyed listening to us when we were on FM before Christmas! He went on to say that he will pay us a visit soon, I just need to fit around his Dragon's Den filming."
SBS is an online Twitter competition launched in 2010. Theo invites tweets between 5pm-7.30pm every Sunday and six tweets that catch his eye get re-tweeted to his 234,000 followers.
Local SBS winners are invited into the studio and national winners get airtime by phone.
For more details on business shows, visit www.redshiftradio.co.uk