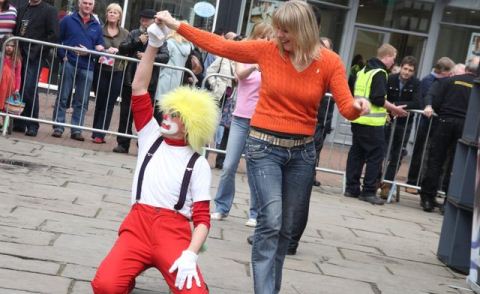 Nantwich Jazz and Music Festival organisers have hailed the 2012 event another huge success with more than 40,000 people visiting the town.
The four-day event over the Easter weekend proved another hit with pub landlords, shops, restaurants and hotels all benefitting.
Monday's family fun day, hosted by Redshift Radio, was also a success, despite the appalling weather conditions, as 1,200 people watched on in the town square.
And plans are now underway for the 2013 event, said one of the organisers Phillip Martin.
Phil, who runs The Crown Hotel in Nantwich, said: "The weekend was excellent. On the Monday I was up at 6am and it was raining. It didn't stop until about 3.30pm.
"Some how we still managed to have 1,200 people watching the show on the square. I think this just shows the strength of the festival."
Top names in music were attracted to perform at this year's festival, including iconic names like Cleo Laine, Tony Christie and Wilkon Johnson.
Nantwich Civic Hall, Crown Hotel and St Mary's Church all hosted big name concerts.
"The highlight for me was introducing Cleo Laine," added Phil.
"She is such an iconic lady and to have her perform in Nantwich was amazing.
"All the acts went down brilliantly. Tony Christie was fabulous along with the musicians he brought with him, and Wilko Johnson was stunning.
"The Crown did fantastically well so I'm sure all the other pubs did too. To have over 40,000 people in the town, it's like organising and policing a Premier League football match.
"I've not heard of any major trouble other than the odd person who drank a little too much.
"Yes, we are already thinking about next year's festival. It will be a hard act to follow!"
All pictures courtesy of Simon J Newbury Photography