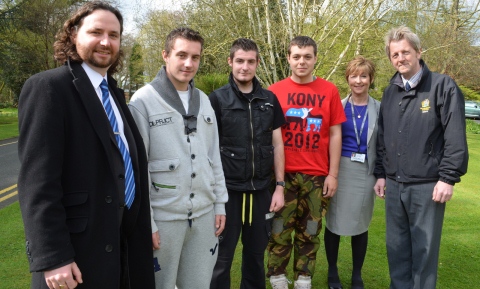 Nantwich residents can look forward to a summer of flourishing flower beds thanks to an award-winning training scheme.
The project, run by Cheshire East Council and delivered by Reaseheath College, has seen budding gardeners working in parks and gardens.
Youngsters involved have been offered horticultural apprenticeships as part of Cheshire East Council's Apprenticeship Scheme, the A-Team.
One day a week they attend Reaseheath College for skills development and training towards relevant, industry recognised qualifications.
As well as offering the young people a vital first step onto a career ladder, it also benefits the local community's public spaces.
A-Team project leader Ben Whitter said: "We are very excited about this scheme because it has a positive impact on everyone.
"Working together, we identified an age gap in the horticulture industry. Older people were retiring and taking with them their hands-on experience and knowledge of a traditional trade.
"We recognise the importance of parks to the local community and hope that, by investing in our young people, we can offer an even better maintenance service."
Dan Band, 19, of Crewe, is based in the town's Queen's Park.
He said: "Getting an apprenticeship has given me a fantastic opportunity to get a job in horticulture and develop through work experience.
"The support network surrounding us has been fantastic and the training has given me a lot confidence because I know how to do the job properly."
Reaseheath instructor David Black said: "These young people are a pleasure to teach. What's great to see is the way they want to do their job to the best of their ability, and their thirst for new knowledge."
(Pic: Dan Band and apprentices James and Kieran Whitehead with Ben Whitter, David Black and Chris Middleton at Reaseheath College)