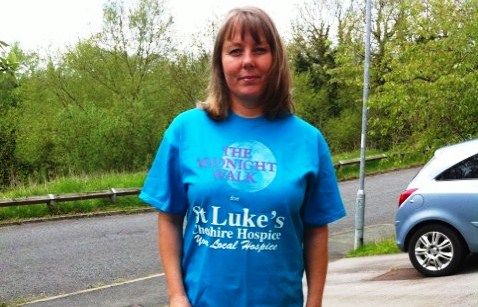 A care worker is joining hundreds of others in the Crewe to Nantwich Midnight Walk to raise money for St Luke's (Cheshire) Hospice.
Sharon Keates (pictured) will stride out on the 13.1 mile walk from Crewe to Nantwich and back on Saturday June 9.
Her dad passed away in a hospice in Staffordshire and saw first-hand the work a hospice does in offering treatment, care, advice and support to seriously ill people and their families.
Sharon, 39, who has a partner in Wistaston and works in Chester, said: "After spending time at Stafford Hospice while my dad was ill and following the amazing support we received from the hospice, I realised just how much money it takes to run a hospice day to day.
"So I decided that doing the Midnight Walk is my way to help with fundraising towards St Luke's (Cheshire) Hospice to ensure others have the opportunity to receive the care and support that myself and my dad received, and also to say thank you.
"Every penny counts no matter how large or small the donation, it all goes to ensure that the hospice can continue to support those who use its service."
If you would like to sponsor Sharon her JustGivingpage is: http://www.justgiving.com/Sharon-Keates
Click Midnight Walk for details on how to sign up for the event on June 9.