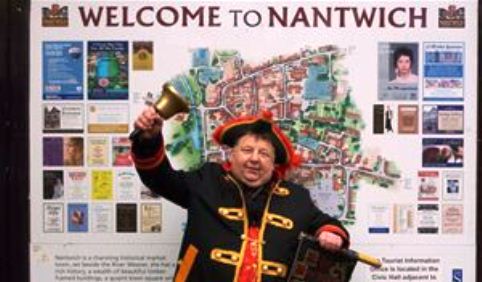 Nantwich is to host a competition to crown Britain's champion Town Crier.
Criers from across the country will descend on the town to compete for the coveted Town Crier Shield on Saturday July 28.
Fourteen criers from as far afield as Alnwick and Colchester will battle it out, including two former British champions and two female criers including Barnoldswick's current European champion, Eliza Mowe.
The event has been organised by Nantwich Town Crier John Parsons and the Rotary Club of Crewe & Nantwich Weaver.
John said: "As soon as I was fortunate enough to be appointed last year to the position of Town Crier for Nantwich, I realised that the market town has all the right 'old world' characteristics to be a perfect venue for such a competition.
"It will be a spectacular event which will include a parade through the streets led by former lead piper for the Ulster Constabulary, Mike Shanahan."
Each contestant will make a first round proclamation on behalf of specific businesses in the town and a second round cry themed on the Battle of Nantwich.
Judging will also include categories for the best dressed crier, the best dressed escort and the best couple.
To round off the day, a grand dinner and presentation will be held at the Crown Hotel from 7.30pm.
Tickets are £25 per head and include a 3-course dinner. Contact Peter Saunders on 07831469853.
All proceeds are in aid of St Mary's Parish Church Restoration Fund and Nantwich Museum.