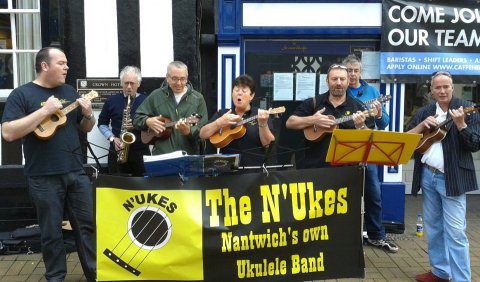 The "Nantwich N'Ukes" local ukulele group are taking part in a two-day "Buskulele" extravaganza this weekend.
Members of the group (pictured), who play Sundays at The Black Lion in Nantwich, will join clubs across the North West.
It takes place on July 7 and 8, starting with a huge busk through Chester city centre on the Saturday, led by Chester Ukulele Players.
On the Sunday, the Groves Band Stand will showcase performances from ukulele clubs across the region, including Nantwich.
The event aims to raise money for the "Miles of Smiles" charity, which sends disabled, sick and under-privileged children in the region on a trip of a life-time.
A spokesman for the event said: "Buskulele is open to anyone who enjoys playing the ukulele, so if you would like to join in get in touch!"
For more details, email [email protected]