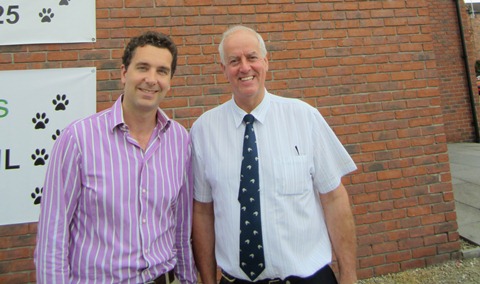 MP Edward Timpson has hailed Nantwich Veterinary Hospital as a key amenity for the town.
He was visiting the hospital at Crewe Road End, Nantwich, with practice partner Colin Baxter.
It is one of the largest veterinary practices in the country with 32 vets working in the companion animal, farm animal and equine departments.
It has expanded since 1998 when the small animal department moved into the purpose built premises where both clients and referrals from local vets are seen.
The hospital also has branch practices in both Market Drayton and Crewe, where a purpose built veterinary hospital on Macon Way was opened in 2011.
Nantwich Veterinary Group's equine department has been based at Home Farm, part of Reaseheath College, since 1994 however the group is developing a new equine clinic at Hurleston.
Mr Timpson said: "I found my visit to the veterinary hospital very informative and it was good to see such well maintained facilities.
"Having the Veterinary Group based in both Crewe and Nantwich is a great amenity for local residents but also serves to attract business into our constituency."
Mr Baxter added: "The history of our veterinary group is firmly rooted in the community here, where we employ over 90 people, and we are proud to be on hand to assist with whatever ailments or problems that both household pets, horses, and farm animals may encounter."