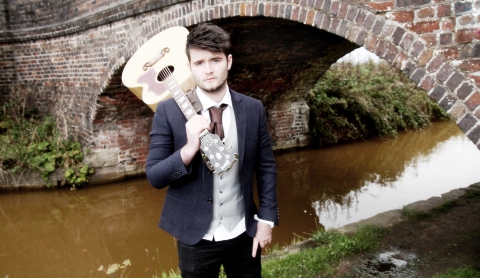 A young performer is to play before a huge live audience in Nantwich for the first time since his X Factor dream was shattered by illness.
Tim Gallagher, 19, won through to the boot camp in Liverpool after a resounding 'yes' from judges only to be rushed to hospital with a blood clot.
Now the former Shavington High School pupil has recovered and is preparing to entertain a crowd of more than 10,000 people at the Spooktacular event at Dorfold Park, Nantwich on October 27.
The bonfire and fireworks event, also featuring Coronation Street beauty Michelle Keegan, has live music in the shape of Tim and For The Weekend (FTW), a boy band being hailed as the new One Direction.
Tim, who studied Performing Arts at South Cheshire College, will perform his own  songs and a range of pop anthems including Crazy by Gnarls Barkley, Sex on Fire, Kings of Leon and Lego House by Ed Sheeran – the song that brought him success on the current series of X Factor.
He said: "Getting through to boot camp was a dream come true but then I suddenly started feeling tired and sick.
"I thought it was dehydration but it turned out to a blood clot. It meant I couldn't go back into the competition but as they say, when one door closes another opens.
"It was a blow having to leave X Factor but I am busy recording my own songs and getting great feedback."
Tim, who started singing at five on a toy karaoke, is due to release his own EP, entitled 13.
He added: "I was born on Friday 13, live in house number 13, so hope 2013 brings me good luck."
Jan Roberts, of Nantwich-based Pure PR, which is promoting the night, said: "X Factor's loss is Nantwich's gain.
"Tim is a great performer and will certainly add something special to the night."
Spooktacular includes more than 2,000 fireworks and a huge bonfire lit by Michelle Keegan. Other attractions include a funfair, Punch and Judy show and licensed bar.
Families are being encouraged to join the fancy dress fun on a Halloween theme. Trophies are up for grabs to be presented by Michelle and MP Edward Timpson.
Tickets are selling fast. They include a free bus to Dorfold Park from Nantwich Civic Hall and Snowhill carpark.
For more information visit www.blitzfireworks.com or call 07876 784100.