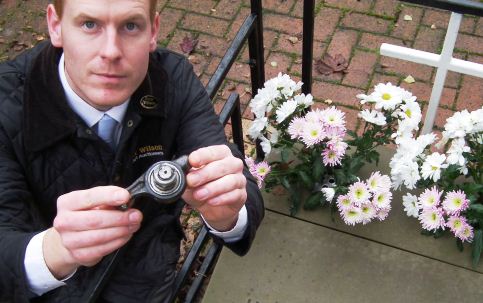 A piece of a Second World War fighter plane which crashed into the River Weaver, is to be sold at auction in Nantwich.
The iconic piece of wreckage is from the US plane which crash-landed close to houses on Shrewbridge Road.
American pilot Arthur L. Brown, who steered it away from homes that day, is honoured every year for his act on January 14, 1944.
Wreaths of poppies are laid at the memorial to the 23-year-old U.S. Army Air Force Lieutenant on the banks of the river.
His Republic P-47D Thunderbolt, flown from New York, crashed and sank into quicksand after developing engine trouble.
Rather than bail out, Brown stayed at the controls to avoid plunging into the town centre and saving countless lives.
His body nor the main structure of the plane was ever recovered.
But among the small amount of wreckage found at the scene was a valve rocker arm from the plane's engine.
Harold Forster, then living in Station View, kept the item and it has remained in Mr Forster's family until now.
Peter Wilson auctioneer Chris Large said: "The story of how an American pilot deliberately steered his stricken plane away from town has intrigued me ever since I was a young boy.
"I thought it was terribly sad this young man should lose his life like that and his body be so far from his home.
"My father and I visit the memorial every year, usually on Christmas Day, to pay our respects and it is very moving when wreaths are laid on Remembrance Sunday.
"Whilst I have read about the incident, I would love to meet anyone who knows more about what happened that day. I remain fascinated by the story and would love to learn more about it."
The relic is a piece of metal less than six inches long, stamped 'Made in USA' and came from the plane's Pratt & Whitney R-2800 double wasp engine.
Auctioneers expect it to sell for around £100.
"But its significance is far greater than its monetary value," Chris added.
Peter Wilson's two-day sale of fine art antiques takes place on Wednesday and Thursday November 14-15.
Viewing is on Sunday November 11 (2-4pm); Monday November 12 (10am-5pm); Tuesday November 13 (10am-4pm) and on the morning of auction days, 9am-11am.
For details contact Chris Large on 01270 623878.