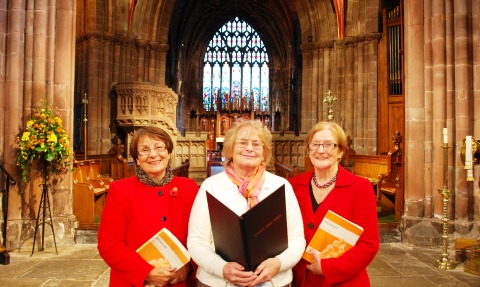 Nantwich Choral Society is heading for a sell-out with its special anniversary performance of Messiah.
More than 100 voices will sing out loud against the backdrop of St Mary's Church in Nantwich this Saturday November 10.
The performance, which marks the group's 40th anniversary, is recognised as Handel's finest work and was first performed by the choristers after setting up in 1972.
Still singing strong are three Nantwich friends Barbara Shone, Sheila Luke and Eileen Robertson.
The trio sang in the original Messiah performance and every concert since over four decades.
Sheila, 79, said: "We are thrilled tickets are selling so well for this anniversary performance.
"In fact the church shop has had to ask for more tickets after selling out of its current stock.
"We have loved our time in the choir. The friendship and combined love of music has given us years of pleasure and we believe promoted good health."
The society was borne from an evening class organised by the Nantwich Workers' Educational Association at the old County Primary School, Manor Road.
After starting with just a handful of keen singers, it now has a thriving membership of more than 100.
Chairman Elizabeth Lea, a former doctor, said: "Singing is good for the posture, respiratory system and soul.
"Our members are united by a common bond to present beautiful music and the fact many of them are still doing so 40 years on, is testament to the wonderful camaraderie that exists in this society."
Tickets for Messiah are available from St Mary's Church Shop, Think About IT on Hospital Street, Nantwich Tourist Information Centre in the Civic Hall, the Victoria Centre, West Street, Crewe and online at [email protected]
(Pictured: Nantwich Choral Society members Barbara Shone, Sheila Luke and Eileen Robertson still singing after 40 years)