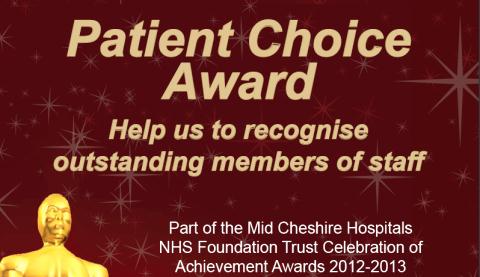 Hospital staff who go the extra mile for patients can now be rewarded by those who have benefited.
New "Patient Choice Awards" have been launched by Mid Cheshire Hospitals NHS Foundation Trust (MCHFT) as part of its annual 'Celebration of Achievement'.
It allows patients, relatives, visitors and carers to nominate staff at Leighton Hospital who have made their hospital experience a pleasant and positive.
Jayne Shaw, of MCHFT, said: "Nearly 200 members of staff were nominated by their colleagues during last year's awards, each recognising commitment, innovation and contribution.
"This year we are encouraging those who use and benefit from our services to help us recognise and reward staff who make a real difference and go above and beyond what is expected of their job role."
Patients and the public can complete a nomination form available at various Trust locations and place it in a "Celebration of Achievement" postbox in hospitals.
Or they can complete an online form at www.mcht.nhs.uk/patientchoice or leave a voicemail with contact details, the nominee's name and department, and the reason for their nomination, by calling 01270 278118.