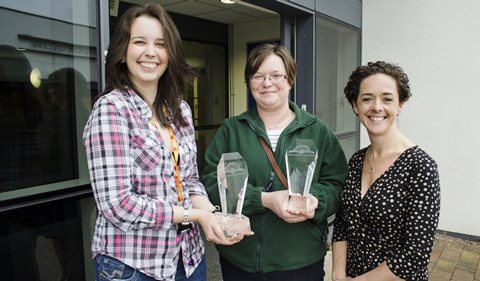 Two dairy technologists in Nantwich are the cream of the crop after completing a second year of their Reaseheath College foundation degree.
Kirsty MacDonald, of Robert Wiseman Dairies, was selected as best practical student while Kelly Dearn, a Dairy Crest employee, was chosen as best academic student.
Kirsty was selected for her practical skills and for her ability to explain practical knowledge, while Kelly was chosen for consistent outstanding exam and assignment results.
The technologists attend Reaseheath's Eden International Dairy Academy for block release training and will graduate with a globally-recognised foundation degree after a third year.
The initiative, called Project Eden, is backed by key players in the industry.
Kirsty said: "I had no practical dairy experience at all when I joined Wiseman, as it was my first job in the industry.
"I now feel much more confident due to the practical work we carry out in Reaseheath's training dairy and the hands-on experience I gain in my workplace."
Kelly added: "Project Eden has offered me a chance to learn new skills and develop my industry knowledge further.
"Although it was hard work, I could not have achieved this result without having the support of my fellow students, Reaseheath's tutors and Dairy Crest."
Liz Pattison, of the National Skills Academy for Food and Drink, said: "Kirsty and Kelly are at the forefront of an exciting future for the UK dairy industry.
"Project Eden is widely acknowledged to be the best dairy course of its kind anywhere in the world."
(Pic: Kirsty and Kelly receive awards from Liz Pattison)