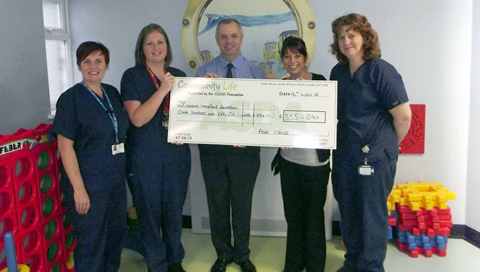 A supermarket has donated more than £350 to Leighton Hospital emergency department to buy new toys for Nantwich children being treated there.
Customers at Asda in Crewe selected the department as part of the supermarket's "Chosen By You" initiative.
Each week, 68,000 customers were given tokens to vote for one of three charitable funds, and during July and August the majority voted to benefit the hospital's emergency department.
A total of £355.24 was donated, with £200 coming from the Asda Foundation and the remainder through customer contributions.
Chris Davies, Asda store manager in Crewe, said: "It's great we are able to help areas of our local community such as Leighton Hospital, and what's even better is that it was chosen by our customers.
"In addition to being able to help the hospital's younger patients with this donation, we have also worked closely with the Mid Cheshire Hospitals Charity and have donated around £7,000 towards the One in Eleven Appeal over the past year."
Lesley Meaney, Paediatric Sister at Leighton, said: "On behalf of the whole team, I'd like to thank Asda and its customers for their generosity.
"The toys we'll be able to purchase as a result will help comfort and relax our younger patients at what can be a very daunting and scary time for them."