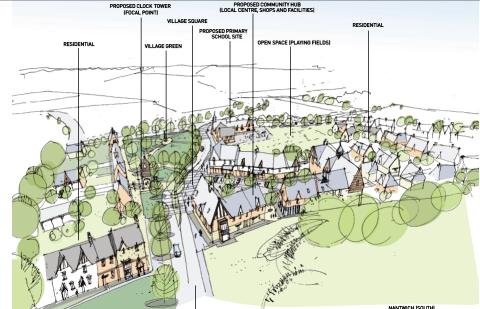 Campaigners in Stapeley fighting plans for a new 1,100-home village, have called the Cheshire East Council draft development plan "helpful".
But they also question the weight of the report as they continue their fight to prevent Muller Property's Nantwich South project.
The draft strategy, published by Cheshire East Council this week, shows support for Nantwich North plans near Reaseheath to meet the need for more housing over the next 20 years.
It states the Reaseheath development, and brownfield sites such as the former Stapeley Water Gardens and the old gasworks off Welsh Row, can provide enough new properties until 2030.
Pat Cullen, of Protect Stapeley campaign group, said: "On the face of it and from Stapeley's point of view, the report is obviously very helpful.
"But it still needs to go out for consultation and it still needs to be approved so until this happens, there is a question as to how much weight it actually carries.
"We must remember that Muller's applications are in the system. If the Nantwich North applications have not been lodged by then, the only plans on the table are Nantwich South."
Cheshire East's Strategic Planning Board is to rule on Muller Property's first phase applications on January 30.
"My gut feeling is Nantwich South will be rejected but there is no doubt Muller will appeal," added Mr Cullen.
"While the new draft development strategy addresses the question  of Cheshire East's five years supply of land, it is not yet approved and adopted and an independent planning inspector may well dismiss it.
"In short, the new draft development strategy is a step in the right direction but there is still a long way to go in the fight to protect Stapeley."
You can view the draft development strategy here