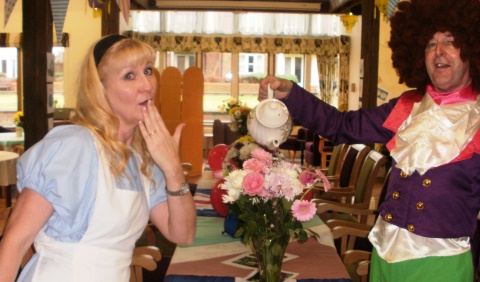 By Claire Faulkner
The snow didn't stop people from making the journey to Richmond Village Nantwich to watch 'Alice in Wonderland'.
And the production had the audience laughing at Alice's adventures in a wonderland full of interesting characters and songs.
All money raised from the show, which was written and directed by Fred Allman,was donated to the Air Ambulance charity.
The cast were great, enjoying the panto experience and whatever it threw at them!
'Alice' was played by Rosalind Ratcliffe, a determined and valiant performance as Rosalind had lost her voice earlier in the week.
However, helped along by Alison Harding the show could still go ahead.
The wonderful comic characters of 'Tweedle Dum' and 'Tweedle Dee' were played by Beverley Morris and Nicola Tooke.
The audience loved the tart making scene and both actors looked at home on the stage.
Well done to everyone at Richmond Village who was involved with the show.
Fred Allman has once again produced a funny, well written show which was enjoyed by everyone.