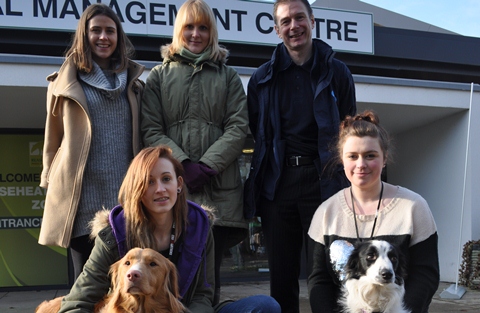 More than 300 Reaseheath College students in Nantwich met with key organisations at a conference on animal welfare.
Speakers from The Kennel Club, Blue Cross, RSPB, Countryside Alliance, Universities Federation for Animal Welfare, and North Wales Reptile and Raptor Rescue talked about legislation and welfare issues.
They also advised animal management students about career opportunities and research grants.
The conference, held at the Nantwich college, was repeated following the success of a similar event last year.
It was organised by Vicki Salt, course manager of Animal Behaviour and Welfare, and Mel Chapman, course manager of Foundation Degree Zoo Management.
Vicki said: "We wanted to give our students the opportunity to learn first hand about animal welfare organisations and the impact they have on our industry.
"There is tremendous expertise within these organisations and our students benefit by learning how they can get involved and how this could help them with their future careers. We have had great feed back, both from students and from the speakers."
The Kennel Club public affairs manager Victoria Brown explained how the organisation was working with local and national government to improve the future for dogs.
Paul Hodson, education officer for the Blue Cross, focused on the animal charity's aim to make the Dangerous Dogs Act more fit for purpose in today's society.
Jim Barrington, an animal welfare consult for the Countryside Alliance, described how the organisation works with the Veterinary Association for Wildlife Management to increase knowledge about the life of animals in the wild.
RSPB visitor development officer Dan Trotman gave an overview of the charity and how it had grown to encompass reserve management, scientific research and international work.
Reaseheath herpetologist Lauren Lane, a trustee of North Wales Reptile and Raptor Rescue, talked about the valuable work the organisation does in rescuing, rehabilitating and releasing or rehoming reptiles and birds of prey.
For details about Reaseheath's animal management courses, call 01270 613242 or email [email protected]