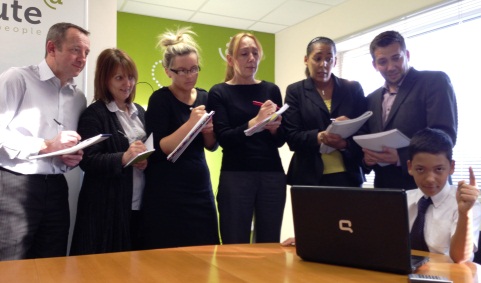 A ten-year-old schoolboy from Nantwich has swapped the classroom for the boardroom to run a group of recruitment companies.
Dominic Marshall took charge of Absolute Recruitment for a day to oversee the running of the firm.
The Crewe-based company manages nearly 500 permanent and temporary placements each week in logistics, agriculture, administration, catering, finance and manufacturing.
And Dominic took the hot-seat of his parents' firm as part of its 10th birthday celebrations.
He made himself at home, letting the 12-strong team know exactly what he expected from them during the day, including mum and dad Jessica and Dan Marshall.
The Wistaston Church Lane Primary pupil was itching to say "you're fired" like BBC TV's The Apprentice star Lord Sugar, but nobody was sent home.
"It was great fun and I'd love to do it again," said Dominic.
"I loved the authority and having my mum and dad doing jobs for me. I'm not sure I could do it all the time as I'd miss all my friends at school!"
Dominic becoming the boss for a day was part of the firm's birthday celebrations, which include 10 events over 10 days.
Other activities the company planned include playing office 10 pin bowling, a visit from players at Crewe Alexandra and honouring 10 members of its temporary workforce.
Jessica said Dominic was born just weeks before the business was established in 2002 and it seemed fitting he should take the helm.
"Dominic was born into the trade and his debut as the head of Absolute Recruitment was an impressive one," said Jessica.
"He did a brilliant job, keeping tabs on how the team were getting on with interviewing candidates, assessing CVs, filling vacancies and advertising the positions we have available.
"Based on his performance, Dominic has a great future ahead of him in recruitment and our business will be in safe hands."
(Pictured L-R: Ken Black, Jeanette Prince, Melissa Graham, Fiona Welch, Jessica Marshall, Dan Marshall and Dominic Marshall)