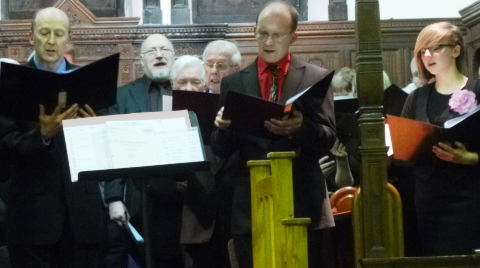 By Jonathan White
More than 70 people watched The Wistaston Singers choir perform a concert at St Mary's Church in Wistaston.
Phil Houghton was musical director who introduced each song and soloist.
Performers included Sally Thompson (violin), Christopher White (ukulele) and Phil Houghton on the organ. Jane Hale was also the accompanist for the evening.
The choir sang Sing a Song of Sixpence (Diack), Someone to Watch over Me (Gershwin), Les Misérables (Schonberg), Some Enchanted Evening (Rodgers), You'll Never Walk Alone (Rodgers and Hammerstein), The Music of the Night (Lloyd Webber), Ave Verum (Mozart), Phantom of the Opera (Lloyd Webber), Stranger in Paradise (Wright and Forrest), All I Ask of You (Lloyd Webber) and A Clare Benediction (Rutter).
The audience joined in for the finale of Guide Me, O Thou Great Jehovah (Hughes).
All proceeds from the concert go to St Mary's Church funds.
Phil said: "We were delighted to sing at St Mary's Church as a way of thanking them for their hospitality when we had to move our rehearsal venue from Nantwich for ten weeks last year.
"It was an evening enjoyed by all and a great start to this year's series of concerts by the choir."
The Wistaston Singers were originally formed by members of the choir at St Mary's Parish Church, Wistaston in May 2000.
There are now over 40 members singing four-part harmony music.
They perform up to five concerts a year at various venues in South Cheshire and one concert out of area as an 'Away day experience'.
The choir rehearses weekly in the parish rooms of St Mary's Church, Nantwich on a Wednesday 7.30pm to 9.30pm.
New members are welcome. Details from choir secretary Jill Oakes on 01270 662940, email [email protected]