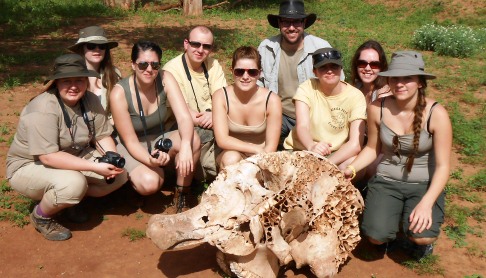 Nantwich students took part in valuable conservation work during a tour to Botswana's Northern Tuli Block.
A group of 26 Reaseheath College students helped wildlife researchers to collect data on species diversity and abundance.
The records will play a valuable part in ongoing studies of the conservation area and its fauna.
The Northern Tuli Block is known for its diverse wildlife and high numbers of elephants and big cats.
The students worked to identify and survey species, download data and take part in other hands-on research.
The group also enjoyed game drives and bush walks and spent one night sleeping out under the stars, accompanied by armed guards.
Although the Nantwich college has arranged study tours to Africa for a number of years, this is the first time that students have visited Botswana.
The trip, organized through African Conservation Experience (ACE) was so successful that many students want to repeat the experience, or to spend longer working on conservation projects in Arica.
Kevin Palmer, course manager BSc Wildlife Conservation and Ecology, said: "This was a dual purpose trip which was very relevant to both the students' studies and to their future careers."
Student Elen Griffin said: "Going to Africa with ACE was probably one of the best experiences of my life.
"I never anticipated how much I would learn and how much I would enjoy myself doing so.
"Hopefully, we will be able to use what we were taught in our later lives, making the experience even more worthwhile.
"Getting so close to nature was fantastic. Some groups spotted most of the big five as well as leopards and hyenas.
"Everyone took part in night drives and had a sleepout, both of which were amazing. The night of the sleepout was one of the best but shortest night sleeps I have ever had!"
(Pic: Reaseheath students come across an elephant skull during their study tour of Botswana)