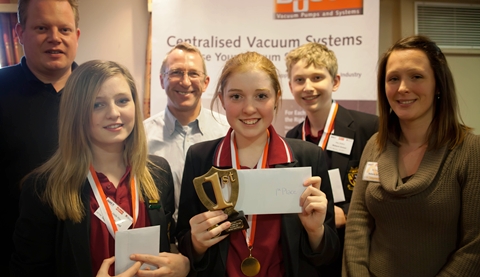 Teenagers from a Nantwich school beat their rivals to win a coveted "Dragon's Den" style competition.
The Malbank School team of Ella-Jade Harris, Meg Wild and Alex Sutton came out on top in the Busch "Make It Enterprising Challenge".
They were competing against Nantwich rivals Brine Leas School and 11 other schools from across Cheshire, Shropshire and Staffordshire in running their own food manufacturing plant.
The 13 and 14-year-old boys and girls had to run their factories, design an efficient layout, and "flowing" their products through a range of industry processes, including vacuum packaging and labelling, and shipping out products for delivery.
The free event was a collaboration between The Manufacturing Institute and Busch (UK) Limited, who make vacuum pumps from plants in Telford and Crewe.
It is part of a series of themed challenges delivered by The Manufacturing Institute's "Make It" campaign which aims to promote manufacturing as an exciting and rewarding career option for young people.
Teams were given a choice of parts and components to enable them to create factories and pool skills to complete on time and on budget.
Pupils took on roles from managing director to operations managers, through to finance, sales and marketing managers.
They then developed a brand for their company and pitched their ideas in a Dragons' Den-style presentation to industry experts from Busch (UK) Limited.
Malbank School collected the trophy after impressing the Dragons with their aim to improve the image of ready-meals by ensuring they were produced to high standards, with strict hygiene guidelines and using only the freshest produce.
Stephen Melia, Make It programme coordinator, said: "Manufacturing is important to everyone.
"Whether it's an iPod, mobile phone or the latest pair of trainers, there are a huge number of job roles involved in making these products, from research and development to design, production and marketing."
Ian Graves, managing director of Busch (UK) Limited, said: "The current economic climate is proving to be particularly challenging for young people who may be seeking their first job and planning their careers.
"Initiatives such as this, designed to inform and inspire the next generation of engineers, are massively important if we are to start filling the skills gap we currently have in the UK."
(Pic: Ella-Jade Harris, Meg Wild and Alex Sutton of Malbank School with Busch managers)