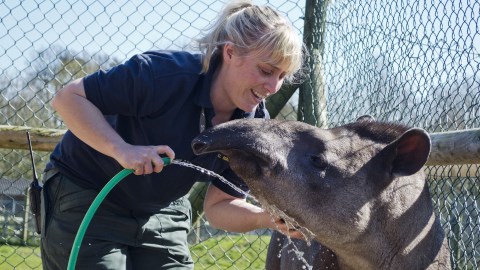 Families can get close up and personal with some of Reaseheath College's rarest residents tomorrow (April 27).
The Nantwich college, which is opening its zoo especially for World Tapir Day, is the only one in the UK with tapirs in its collection.
And their two Brazilian tapirs, Ernie, who is eight, and four year-old Timmy, are sure to prove a big hit with animal lovers.
Student members of the Conservation Society are supporting World Tapir Day by holding presentations on the importance of conserving the animals and their habitat.
They are also creating an animal trail which families can follow around the zoo.
Reaseheath's tapirs are one of four global species, all of which are in decline due to the destruction of rainforest by humans and the effects of hunting.
Tapirs are most closely related to the horse and rhinoceros and closely resemble relatives which roamed the earth 35 million years ago.
Animal Centre deputy manager Amy Dunbar said: "We are hoping our tapirs will be out in their enclosure ready to meet visitors.
"They are fascinating animals and we are taking the opportunity of World Tapir Day to give the public the chance to learn more about the species and why it's important that we conserve it.
"Saving tapirs helps to save the rainforest, and saving rainforests helps to save the planet and prevent climate change."
Reaseheath's zoo will open between 10am and 5pm on Saturday April 27.
Entry is £5 adults, £4 concessions, £15 family ticket and children under three go free.
(Pic: Amy Dunbar gives Ernie the tapir a bath in preparation for meeting his visitors)