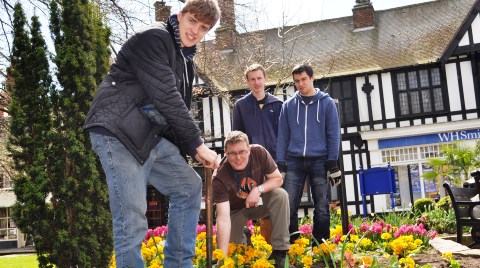 Nantwich's showpiece flower bed is being remodelled by Reaseheath College students for this year's RHS Great Britain in Bloom.
Horticulture students moved four 10-year-old yew trees from the town square which were blocking views of the town's historic buildings.
The trees have been replanted in a more suitable position alongside St Mary's Parish Church.
The central, semi-circular bed will be redesigned by garden design students from the Nantwich college, who will then hand the project back to the horticulture students.
The bed will be built up and replanted with perennials and some annuals, with the students aiming to complete the planting in June in time to impress the judges.
They will also join Nantwich in Bloom volunteers busy ensuring the town's flower beds, tubs and baskets are in top condition.
In an innovation this year, students will label new and established plants so townsfolk can learn more about different varieties.
Students have also helped the new Rector at St Mary's, the Rev Canon Dr Barry Wilson, to improve other areas around the church.
Horticulture course leader Anthony Saxon, a committee member for Nantwich in Bloom, said: "As a college we encourage our students to get involved with their local community.
"The new design and planting scheme should provide a colourful, eye-catching centre-piece which will be enjoyed by Nantwich's residents and visitors.
"Hopefully, it will also earn full marks during the judging of Nantwich in Bloom.
"The bed has quite heavy shade, so we will be quite specific about the new planting."
Nantwich has won national and regional accolades in Britain in Bloom in previous years, culminating in a silver gilt award in 2012 in the most competitive 'town' category.
Secretary of Nantwich in Bloom Sue Hughes said: "We are delighted that Reaseheath's horticulture and garden design students have become so involved with the scheme this year.
"With their help we have been able to take on more demanding projects around the town. We hope that the improvements we are making will lead us to even more success this year."