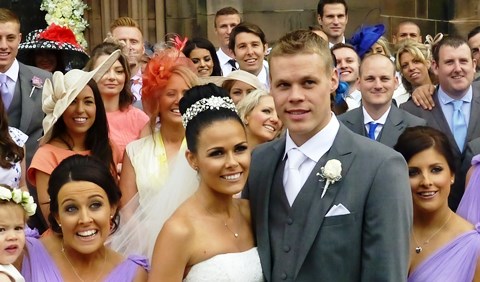 Stoke City and England defender Ryan Shawcross was married today (June 15) St Mary's Church in Nantwich.
The Potters captain, who lives near Acton, tied the knot with long-term partner Katherine Buckley.
Fellow Stoke City players were in the congregation along with friends and families of the couple.
The congregation also spilled out into the square as the sun came out to provide some picture opportunities for members of the public as well as the wedding photographer!
Later, the couple staged a spectacular reception at picturesque Peckforton Castle, near Nantwich.
Witnesses near the church described how two decked out double decker buses took guests from the church to the castle.
Chester-born Shawcross, 25, watched her bride-to-be run the 10k Bupa Great Manchester Run two weeks ago.
Kath completed the course in 60 minutes and raised £2,700 for Leighton Hospital's neonatal unit which cared for their daughter Lexie after she was born two years ago.
The couple also have a young son, Freddy.
(pic courtesy of Ann Aspinall)