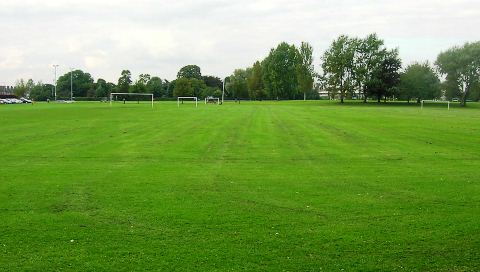 Tests are being carried out on The Barony playing fields in Nantwich amid fears of potential land contamination.
The risk and screening assessment comes after initial tests showed part of the Barony needed further investigation, including more extensive soil sampling.
The 10-hectare Barony site was used as a domestic refuse tip between the 1950s and 1970s.
Before this, documents show the site was formerly occupied by a brick works and clay pits.
But in recent years, the site has hosted major events such as the Cheshire Triathlon, Town Sports for local schools, and Nantwich Family Fun Day among others.
Following preliminary investigations, Cheshire East Council now needs to take more detailed samples from the site.
This will involve drilling between 10-15 shallow boreholes to take soil samples for analysis.
The Council will also use some of these boreholes to undertake future gas monitoring to establish if any gas is being generated as a result of its former use.
Drilling took place on Wednesday and Thursday of last week (June 12 and 13) and further monitoring is ongoing.
Cllr Les Gilbert, Cheshire East Council Cabinet member in charge of communities and regulatory services, said: "We are taking steps to investigate this site further to ensure there are no potential hazards to users or the local community.
"We inherited the playing fields from the previous Crewe and Nantwich Borough Council, which granted permission for the site to be used as playing fields.
"But we need to be certain that there is no potential risk to the health of users and residents.
"The drilling for soil samples is a sensible precaution in the circumstances and current best practice, given the land was a former domestic refuse tip.
"I must stress, however, that our officers are currently not aware of any major issues or problems with the site."
If residents have any specific concerns, they should ring the Council's environmental health team on 0300 1235015 or visit our website at www.cheshireeast.gov.uk