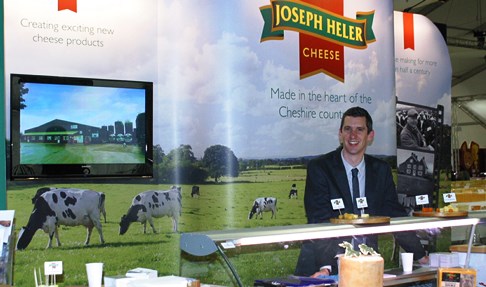 A local cheese producer will be exhibiting more than 100 cheeses at the Nantwich Show next week (July 31).
And Joseph Heler Cheese, based in Hatherton near Nantwich, will be hoping to scoop some top awards at the 2013 International Cheese Awards.
The awards are held as part of the Nantwich Show at Dorfold Park, and are a key fixture in the industry calendar for cheese makers across the globe.
Thousands of cheeses will be entered for awards which are judged by some of the UK's top specialists and industry peers.
And Joseph Heler bosses hope their range of Cheshires are ones to watch, having picked up multiple wins for their White, Coloured and Blue Cheshire cheeses at this year's Cheshire Show.
The company's annual stand will be selling award-winning range on July 31, which includes Red Leicester, Double Gloucester, Mature Cheddar and Cheshire, along with their new Red Leicester with Geeta's Authentic Indian Chutney.
David Wells, Joseph Heler category manager, has been elected on to the show's committee.
He said: "It is an incredible privilege to have been invited to join the committee at this year's International Cheese Awards.
"Not only is the show based here on our doorstep in Nantwich, but it is also one the most esteemed of its kind in the world.
"Having competed here for many years we understand the unrivaled quality of the produce and subsequently look forward to finding out our own results as well as being part of the larger process."
Last year's International Cheese Show saw more than 3,900 entries from 28 countries housed in 70,000 square feet of air-conditioned marquee.
This year is set to be just as large, with celebrity fans such as chefs James Martin, Matt Tebbutt and Will Holland all attending.