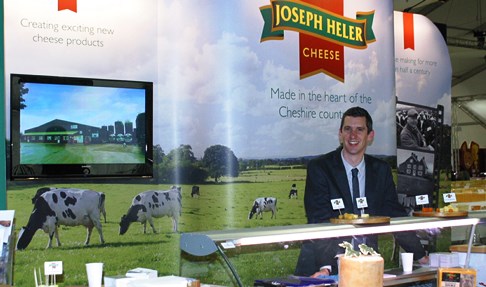 The boss of a cheese maker in Nantwich said it was a "real honour" after they scooped eight golds at the International Cheese Show.
Mike Heler, of Joseph Heler Cheese based in Hatherton, was celebrating after the company scooped an amazing 22 awards in total.
Staff at the company's stand were amazed during the Nantwich Show at Dorfold Park as the honours kept rolling in.
Mr Heler, managing director, said: "This has been one of our most successful International Cheese Awards to date and we are delighted with our wins.
"It is a real honour to be recognised for nearly every cheese in our portfolio; from the traditional regional cheese that are the backbone of our business to the blends and innovative products that are propelling our business into the future.
"Our wins truly are testament to the Heler team's hardwork and determination to create the best possible product."
They won first prize for traditional artisan cheese including White and Coloured Cheshire, Mature Cheddar, Mature Red Leicester and Caerphilly.
They also scooped gold for innovative products like their Red Leicester with Geeta's Authentic Indian Chutney.
The ground-breaking new blend has also been shortlisted for the important The Grocer's New Product Awards.
Its Mature Cheddar picked up the highest accolade with a gold in the highly regarded Danisco GP class, and its traditional Mature Red Leicester also gained a gold.
Joseph Heler was also recognised as their 3% fat cheese received both gold and silver.
In total, the creamery won 22 awards including 6 silvers, 6 bronze and 2 Very Highly Commended awards alongside 8 golds.
The International Cheese Awards are the largest of its kind in the world, and attracted over 4,000 entries from 27 countries.