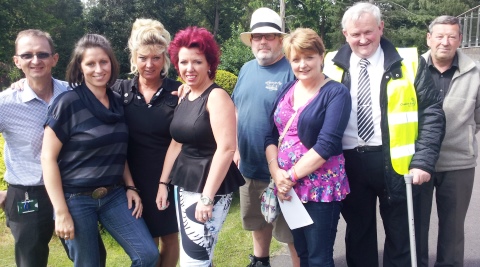 Volunteers have clubbed together to tackle problems facing one of South Cheshire's most popular parks.
Queens Park in Crewe is set to benefit from the new volunteer group A.N.T. (Action Not Talk).
Leanne Haythornthwaite and Kirsty Taylor decided enough was enough and formed Action Not Talk after Cllr Michael Jones, leader of Cheshire East Council, suggested local residents become more involved.
"I was disappointed the park hasn't been completed," said Leanne, after a recent walkabout with friends and family.
"But negativity on the Internet frustrated me more. So we are asking people to join us, stop talking and take some real action.
"We can't finish everything in one weekend, but with enough volunteers I believe we can make a huge difference to the look and feel of the place – certainly to some of the eyesores people rightly complain about."
The group met on Monday at the Pickle Jar café within the park's main pavilion.
They were joined by members from Friends of Queens Park and officers from Cheshire East Council.
"The reaction so far has been amazing," added Kirsty.
"But now it's all about showing the Crewe public and Cheshire East Council we're serious, and that we can make a difference."
Park manager Elaine Dodd is delighted by the public support.
"Everyone wants to see the park restored to its former glories," she said.
"But direct action from dedicated volunteers will show the council how important it is to the local community."
A.N.T is set to meet next Monday (August 19) from 6.30pm at the Pickle Jar café to make plans for the first working party that will take place on August 31 and September 1.
Volunteers hope to involve local companies, schools and other organisations to tackle litter, lakeside weeding and repair benches, before moving on to large projects.
Anyone keen to get involved can email Kirsty or Leanne on [email protected] or visit the Facebook Group www.facebook.com/groups/queensparkants
(Pic: Members of the A.N.T are joined by Elaine Dodd and Charlie Griffiths from CEC, plus members from Friends of Queens Park)