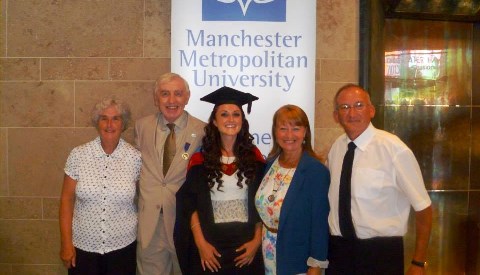 Two Crewe & Nantwich students who received the first educational bursary awards introduced by a local councillor, have graduated.
Katrina Morrell and Christine Johnson were among six young people to receive the awards.
They were introduced by Willaston and Rope Councillor Brian Silvester in 2008-9 as part of the Lifelong Learning theme.
Now Katrina, from Wistaston, has graduated with a First Class degree with honours in Early Childhood Studies from the Manchester Metropolitan University.
She is going on to take a PGCE for a year and then she will teach in primary education.
Fellow bursary recipient Christine  also graduated this year with a First Class Honours.
Bursaries of between £5,000 and £7,500 were awarded to help local people who had left education to return and fulfil their ambition at university.
"Education can change lives for the better and I chose to launch the Scholarship Fund because I wanted as many local people as possible to have that opportunity," said Cllr Silvester.
"This financial assistance offered people of all ages the opportunity to realise their ambitions and fulfil their learning potential – it really was the chance of a lifetime."
Former Mayoress Sheila Davies said: "I would like to thank all those who worked so hard to raise funds for this very worthwhile cause.
"With the match funding from partners Wulvern Housing and the Manchester Metropolitan University (MMU) over £60,000 was raised and that is a remarkable achievement."
Katrina said: "I would like to say thank you to Cllr Silvester and former Mayoress Sheila Davies and all those involved in the scholarship programme.
"This been a huge help in the progression of my higher education and in my future career in teaching."
(Pic: Katrina Morrell with Cllr Silvester, Sheila Davies, and Katrina's parents Maureen and David)