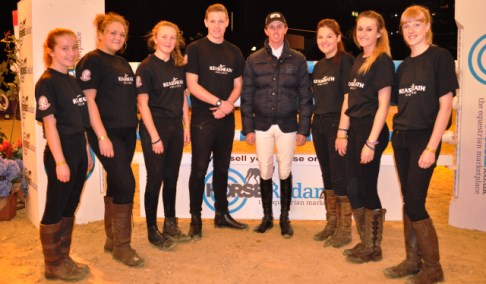 Reaseheath College students and staff from Nantwich were under the spotlight when they provided the arena party for the Horse of the Year Show (HOYS).
Thirty-six students and two staff from the Nantwich college were on duty for the full week.
They helped Olympic course designer Bob Ellis and fellow international designers to build courses to test the world's leading showjumpers.
The students received training and met up with competitors including the world's top ranked showjumper Ben Maher, who gave a demonstration at Reaseheath's Equestrian Centre last year.
And Reaseheath's team, led by Sarah Turner and Kerry Nunns, have already been booked as the arena party for HOYS 2014.
Bob Ellis, lead course designer for the London 2012 Olympics, said: "Yet again, Reaseheath's arena party has really come up to the mark and has helped us to put on a superb show.
"All riders aspire to compete and win at HOYS and it makes such a difference to us knowing that we can rely on our arena team to do a professional job.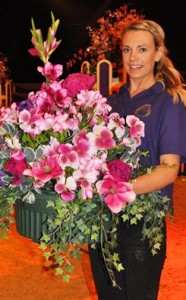 "It's also a great opportunity for the students, as they get an experience which would be difficult to replicate anywhere else.
"What is noticeable is that Sarah and Kerry lead from the front and the students have a lot of respect for them."
Reaseheath student Katy Blackshaw (pictured, right) who was a member of the HOYS arena party for the past two years was back at the show with a new role as a"'petal girl".
The 21-year-old, studying Equine Science, was asked to join "Silk and Stem" – which provides flowers for Britain's major shows.
Katy's duties included ensuring designs could accommodate microphones for filming where specified.
She said: "I'd never thought about this sort of job before but it's been a great opportunity. It's good to add to my CV and I love travelling and going to the big shows."
(Pic: Reaseheath equine students Ciara Sheard, Gemma Knight, Steph Plant, Alex Whittaker, Amy Holmes, Danii Jauncey and Megan Greenhalgh are joined by the world's leading showjumper Ben Maher)