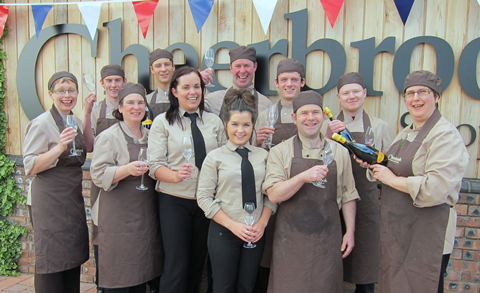 Nantwich food outlets tasted victory at a county awards night in Chester.
Cheerbrook Farm shop, Bloom sandwich shop, Enzo coffee shop, and the Yew Tree Inn all took gold in their categories at the Chester and Cheshire Food and Drink Awards 2014.
Bloom, on Pillory Street, won the Best Sandwich Shop Gold Award, after just 12 weeks in business, while Cheerbrook on Newcastle Road (pictured) triumphed in the Best Pork Sausage Award.
Enzo in Nantwich won Gold in the Best Cafe category, and Yew Tree Inn in Bunbury, near Nantwich, scooped Gold in the Best Use of Local Produce in a menu.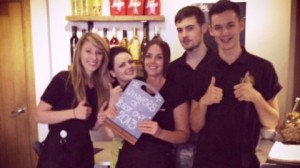 Carrie Slater, boss of Enzo, told Nantwichnews: "It's fantastic that the great people at Enzo are being recognised for the great things they are doing.
"We feel privileged to have such a fabulous team of people and we look forward to future accolades!
"Thanks as well to our fantastic guests for giving us the opportunity to do what we do."
Enzo also won Best Cafe in the 2013 awards (pictured).
Sarah Roberts, owner of Bloom, said: "We are absolutely over the moon to have even been nominated for the award after only 12 weeks in business. We're truly blown away to have won Gold!
"Thank you to all of our fantastic customers for their nominations!"
And Jon Cox, landlord at Yew Tree Inn, added: "We're really pleased to be recognised for our team's dedication to using the best local produce in our menus.
"We're situated in a fantastic area for all kinds of wonderful produce, from Red Poll beef, honey, Cheshire cheese and vegetables to cracking breweries and artisan producers. We love to showcase their hard work and dedication on our menus everyday."
Other local finalists at the awards last night (April 23) were Residence of Nantwich, in the Best Large Restaurant class.
A record 4,800 votes were cast for this year's awards as diners and shoppers across Cheshire supported their favourite venues.
Chair of the Food and Drink Awards Jane Mooney said organisers were thrilled to see the popularity of the awards grow.
"There is no doubting these awards are now recognised as the bench mark for our industry, right across Cheshire," she added.
"We have nominations from all parts of the county and every one of these venues understands the need for great customer service, a unique product and a celebration of everything that is great about the Cheshire food and drink scene right now."
Each of the finalists was mystery dined/shopped by judges before the winners were announced at a gala dinner at Chester Racecourse last night (April 23).