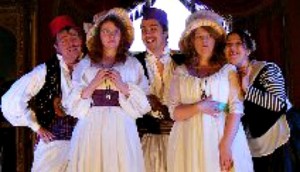 By Claire Faulkner
Heritage Opera returned to Nantwich this week and gave an outstanding performance in St Mary's Church on Monday night.
"A Passion for Opera" was a night full of well-known operatic and musical theatre numbers performed by the professional touring company.
The singers are all international professionals.
They include baritone Thomas Eaglen, tenor Nicholas Sales, soprano Sarah Helsby Hughes, and Nantwich-based mezzo-soprano Imogen Garner, with Benjamin Cox accompanying at the piano.
The performance included a huge variety of numbers including pieces from 'Rigoletto', 'Madame Butterfly' and 'Tosca'.
My particular favourites were 'Lonely Town' performed by Thomas Eaglen and 'Nessun Dorma' performed by Nicholas Sales.
Both were delivered with amazing precision and sounded superb in the acoustic surroundings of St Mary's Church.
The applause given by the audience at the end of the evening was testament to how much people enjoyed their night.
I don't know a lot about opera, but I find that the real joy of watching a Heritage Opera production is that you want to know more.
Each production from this company inspires and brings new musical experiences.
If you haven't been to the opera before, please do go and support Heritage Opera when they next visit Nantwich in August.