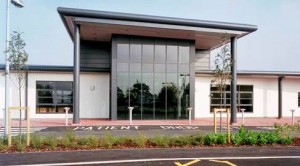 Leighton Hospital's much-used Treatment Centre is to undergo a major six-month overhaul from next week.
Works will include the creation of a dedicated surgical admissions lounge, and an expansion of the endoscopy suite.
The refurbishment comes after completion of the Mid Cheshire Hospitals Trust's multi-million pound project to improve its theatres and critical care facilities, which opened in April.
Denise Frodsham, MCHFT's chief operating officer, said: "The theatres and critical care project has been a huge success and we are already seeing the benefits the new facilities and ways of working are bringing us.
"This next phase will enable us to implement further improvements in the quality and safety of care that we can provide to our patients for years to come.
"We would like to thank them for their continued understanding and support during our ongoing development works."
During work, services currently housed in the Treatment Centre will be temporarily relocated to areas within the main hospital building.
Patients who require these services during the works are asked to report to the Day Case Admissions and Discharge area on Ward 11.
Trust bosses say they will be advised of this change in appointment letters.
Services in the Treatment Centre are set to finish tomorrow (June 20) and will restart in their new temporary locations on Monday June 23.
Refurbishment works will take place until early 2015.