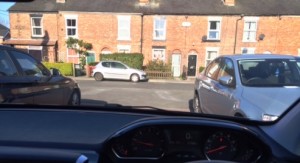 Bollards are to be erected on a street in a Nantwich village to tackle "anti-social" motorists.
Residents in Willaston have complained many times about the Meadow View development where drivers double park.
Some homeowners have struggled to get out of their own drive (pictured) because of the parking.
Now Cheshire East Council has confirmed contractors are to erect bollards on the left hand side of the road as you drive in.
Willaston and Rope Ward Cllr Brian Silvester has been campaigning to get action to stop the dangerous parking.
He said: "The developers of Meadow View have now instructed contractors to erect bollards on the grassed area on the left hand side of the road as you drive in.
"This will physically stop the double parking at the junction,which makes it impossible for emergency vehicles and other vehicles from gaining access.
"Also I have had confirmation that Meadow View will be adopted by the council in the matter of weeks.This will mean that it will come under the control of the Council so further improvements should be easier to achieve.
"I am also pleased that, after a request from me, the overgrown grassed areas in the cul-de-sac have been cut by the council."