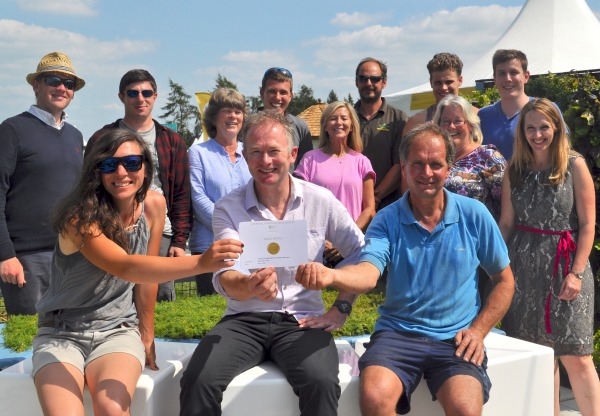 Nantwich garden designers and florists completed a successful RHS Flower Show Tatton Park by winning two top awards.
And the Reaseheath College team also helped one of Cheshire's leading visitor attractions to achieve another.
A team of ten garden and landscape design students achieved one of just three gold medals in the prestigious show garden section with their edible garden 'A Taste of Wythenshawe'.
It celebrated Real Food Wythenshawe, a five-year £1 million Big Lottery-funded community food campaign which promotes ways people can grow their own fruit and vegetables and cook healthy, cheap meals.
Dougal Philip, chair of the judges, said: "This was a magnificent garden which was strong, exciting and innovative and with wonderful detail.
"The fact it was designed and built by a team could have posed problems but everyone has worked together.
"Reaseheath's students should be really proud of what they have achieved."
The garden will now be rebuilt in Wythenshawe Park, where it will be shared by the local community.
All team members have been trained by Reaseheath and have gained their NPTC Level 2 horticulture award.
Reaseheath florists were also celebrating after winning the prestigious new RHS Tatton Park Floristry College of the Year Competition.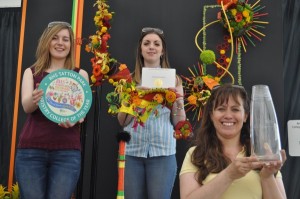 Floristry students Anna Eite, Zoe Sillito and Wendy Anderson (pictured, right) took the title against competition from four other colleges.
They will now compete at the national finals at the Chelsea Flower Show 2015.
They also won a silver gilt medal for their creative, carnival themed stand.
Reaseheath horticulture students helped to build a carnival-themed stand for the Cheshire Gardens of Distinction, which was awarded Best Show Feature.
The group was represented by Arley Hall and Gardens, Adlington Hall and Gardens, Cholmondeley Castle and Gardens, Fryers Roses of Knutsford, Biddulph Grange, Norton Priory, Bluebell Cottage Gardens and Nurseries and the Cheshire Gardens Trust.
Other successes included Jonathan Price, taking a silver medal for his show garden De Musica Mundana, and former floristry student Adrian Thomas was awarded gold in the open floral design competition.
Floristry lecturers Ruth Clarke and Fiona Davies, representing Reaseheath, won a silver medal in the same section.
And in a final coup, horticulture student Richard Carden won through to the 2014 WorldSkills UK Landscape Gardening finals after a three-day Landscape Gardening Competition.
Richard, pictured below, will now compete at the Olympic-styled finals at The Skills Show at Birmingham NEC in November against top students from other colleges.
He said: "I can only describe it as being as close as landscape gardening can get to being a military operation.
"There was no let up at all as we had to complete the garden to a tight deadline.
"But I really enjoyed it and I'm looking forward to improving my skills ready for the national finals."