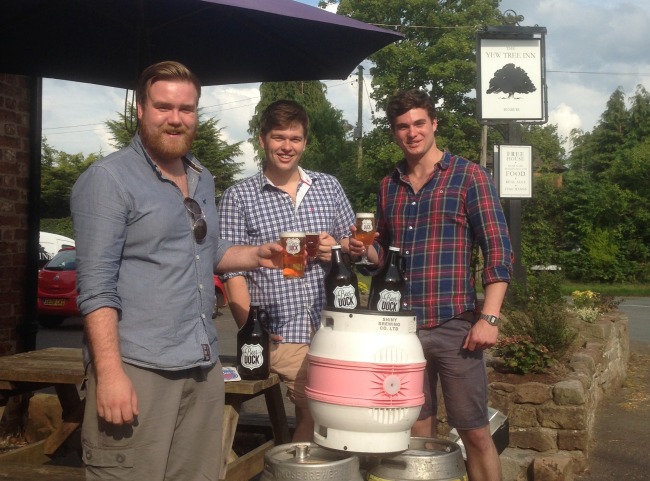 The award winning Yew Tree Inn is rolling out the barrels and the bands for an August Bank Holiday beer and music extravaganza.
The pub, in Spurstow, Bunbury, twice voted 'Pub of the Year', has joined with Beer Dock specialist off-licence to showcase cask, craft keg and bottled ales from around the UK.
The beers have been sourced by the Beer Dock's Sam McGarrigle after an invitation to take over the pumps from Yew Tree manager Myles Carr and bar manager James Ivill.
They include beers from Siren Craft Brew of Berkshire, Arbor Ales of Bristol and the Gloucester Brewery – all rarely seen in the North – and will feature a collaboration brew from Fyne Ales of Argyll and Somerset's Wild Beer Co.
After opening on Friday night (August 22), Saturday afternoon will see tutored tasting from Sam to explore craft bottled beers.
The session is free to attend but should be booked in advance.
Beer Dock is based on Nantwich Road in Crewe.
Myles said: "We wanted Beer Dock to be part of our festival weekend as we both have a real passion for real ale and craft brewing.
"It is part of the Yew Tree ethos to work alongside small, local businesses and increase awareness for them.
"The weekend is a combination of beer, live music, beer and barbeque.
"Hopefully the weather will be kind to allow for some 'sunset sessions'."
Music performances will be from the Mac Bros duo on Friday from 8.30pm, Amber Prothero from 7pm on Saturday and the Beard Band from 6pm on Sunday.
Entry is free all weekend and the regular pub menu will be available except on Sunday evening when BBQ specials will be on offer.
Enterprising publicans Jon and Lindsay Cox re-launched the abandoned village hostelry in 2010.
Since then the Yew Tree has won a raft of awards and guide listings – and was hailed by the Jamie Oliver Magazine as the place to eat in Cheshire.
It has been included in the Alistair Sawday's Special Places to Eat & Drink Guide every year since opening.