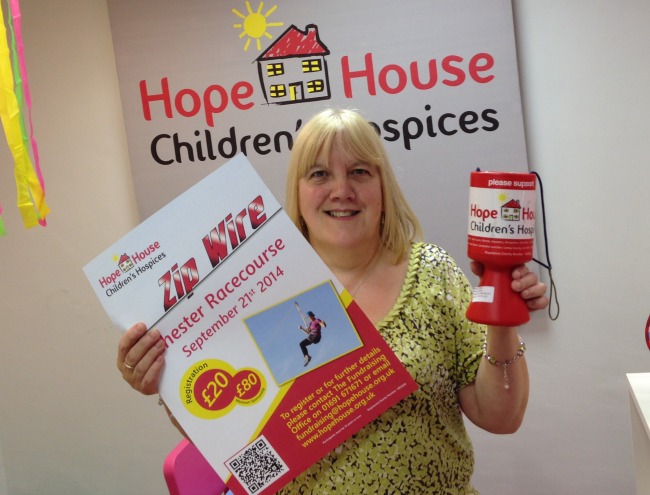 A charity shop worker from South Cheshire will tackle a daring zip wire challenge to raise cash for the cause.
Margaret Jones, Hope House charity shop assistant manager in Crewe, will be braving speeds of up to 40mph.
Maggie will be joining 180 others taking part in the Hope House Zip Wire Challenge at Chester Racecourse on Sunday September 21.
Participants will be raised up to 120ft in a crane basket, connected to the zip line and glide the length of the open course alongside the river reaching speeds of up to 40 mph.
Maggie, 56, and her son Richard, 28, are no strangers to daredevil exploits. They took part in the Hope House tandem skydive six years ago.
Maggie said: "I'm taking part in this event with my son and we are very much looking forward to it.
"It will be quite an exciting challenge for us both and as well as raising money for Hope House, I'm sure it will be great fun."
To take part, registration is £20 and each individual is asked to raise a minimum of £80 in sponsorship.
The event is being run by Vertical Events whose staff are fully qualified and will make sure all participants are in safe hands.
Hannah Penney, fundraiser for Hope House, said: "We are very excited about our Zip Wire Challenge.
"180 people are expected to whizz across the open course with their friends and family cheering them on and we are hoping the event will raise in the region of £15,000 for Hope House."
To register contact Hope House on 01691 671 671, email [email protected], or visit www.hopehouse.org.uk