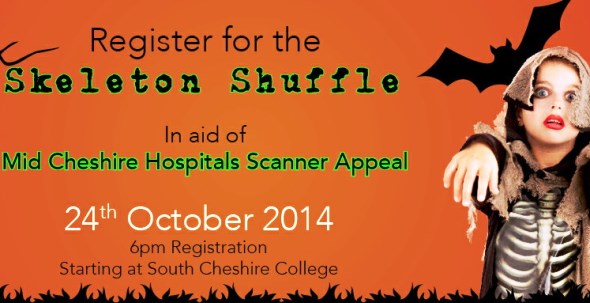 A charity is to stage a bone-rattling "skeleton shuffle" to help raise funds for a new MRI scanner at Leighton Hospital.
Mid Cheshire Hospitals Charity has launched an appeal to raise £1 million for the extra scanner.
And the "skeleton shuffle" on October 24 is the latest stunt to be organised in aid of the cause.
It will involve walking from South Cheshire College to Crewe Alex Football Club, and back again, starting at 6pm on the night.
Now charity bosses want as many Nantwich and Crewe residents and businesses as possible to sign up and take part.
Laura Riddle, charity manager, said: "Hosting the first ever 'Skeleton Shuffle' event will be a great community event and it will be fantastic to see local businesses supporting the MRI Scanner Appeal.
"The night will be good fun for both the public and corporate sponsors and we're hoping children and adults alike will come in their best skeleton fancy dress.
"Successfully funding the £1 million target and procuring the additional MRI scanner will provide a number of benefits to patients, staff and the Trust.
"The new scanner could help save more lives than ever as well as generally improving the patient experience."
Tickets can be purchased from the website, and participants are being encouraged to raise sponsorship.
The need to obtain an additional scanner was taken after a rise in demand with 30 patients a day being scanned between 8am to 8pm, seven days a week.
A number of local businesses are taking part, including RedShift Radio in Crewe, Bare Bones Marketing in Middlewich, Car Loan 4U, South Cheshire College and Crewe Alexandra Football Club.
Tickets are £15 for adults and £7.50 for children.
For more details and to buy tickets, visit www.skeletonshuffle.co.uk
For group bookings of more than four people, business team entry or corporate sponsorship, contact Laura Riddle on 01270 273248.