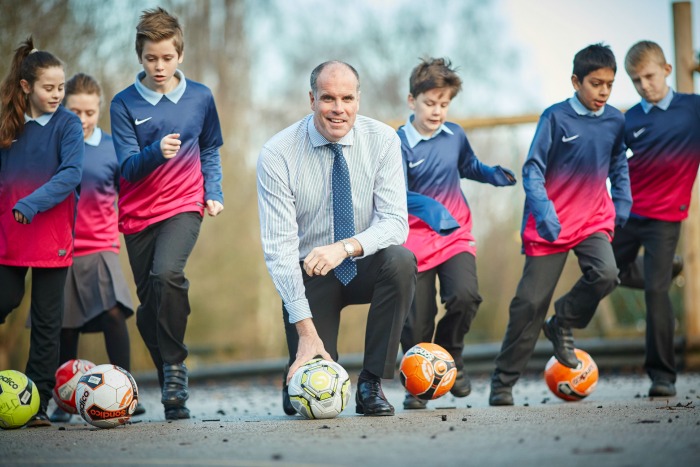 A Nantwich school has beefed up its team – by landing a former Premier League star as the new headteacher!
Ex Middlesborough defender Phil Whelen is now top dog at Millfields Primary on Marsh Lane.
And Mr Whelan, who played during the Bryan Robson years on Teesside, has big plans for the 250-pupil school.
The 42-year-old re-trained as a teacher after finishing his footballing career at Southend almost 12 years ago.
And his background will certainly help Millfields' sports teams – he plans to train the football team himself.
Mr Whelan, who also has three England Under 21 caps, said: "The school is currently classed as 'good' by Ofsted, and we are working towards 'outstanding'.
"But what I really want is for Millfields to become a real hub for the local community with staff, parents, pupils and our neighbours all seeing it as 'their' school.
"I also plan to coach the football team and I'm very keen to raise the profile of sport within school."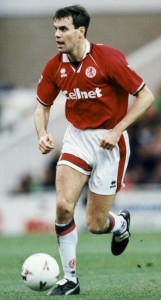 Mr Whelan (pictured, right, in his playing days) believes there are lessons he's learned on the football pitch that translate well in the classroom.
"There's a lot that transfers from football to education. Motivation is the most important.
"If you can master self-motivation and realise you are the most important person in your future you're well on the way to success."
He also stresses the importance of team-work.
"We have a great team, of staff who work really well together. They work well with each other and with the pupils.
"The social and pastoral care at Millfields is excellent."
Mr Whelan, originally from Stockport, played his first football with the Old Gregorians in the Manchester League when he was 16.
He joined Ipswich Town in 1990 aged 18 and while playing there he studied for a degree at The University of East Anglia.
He was sold to Middlesbrough in 1995 for £300,000 where he became part of  Robson's squad in the Premier League.
Mr Whelan also played for Oxford United and on loan at Rotherham before ending at Southend where he studied for his teaching qualifications at Essex University.
"By the start of my last season I knew my footballing career was coming to an end so I started to think about what else I could do," he said.
"My degree was in accountancy but I didn't want to go from playing football to sitting in an office all day.
"A chance conversation led to a friend of mine inviting me into the school where he worked. From the moment I went in I loved it."
Mr Whelan moved to Cheshire in 2004 and taught at Whitchurch Junior School in Shropshire.
He then taught at Elworth Primary School in Sandbach and after that took up the deputy headteacher's post at the Dingle Primary, Haslington.
Mr Whelan's granddad, Jack Connor, was the leading goal scorer for Stockport County and his dad, Paddy Whelan, came over from Ireland to play for County. His cousin, Joe Connor, currently plays for Southport.
(Pic above: New Millfields head Phil Whelan, with members of the school football team Jodie Malone, 11, Ceris Owen, 10, Will Dunn, 10, Fin Wilson-Gillies, 10, Azhar Nazir, 11, and Will West, 10)
(Pic, right: Phil Whelan in his playing days at Middlesbrough FC – picture courtesy of Middlesbrough FC)