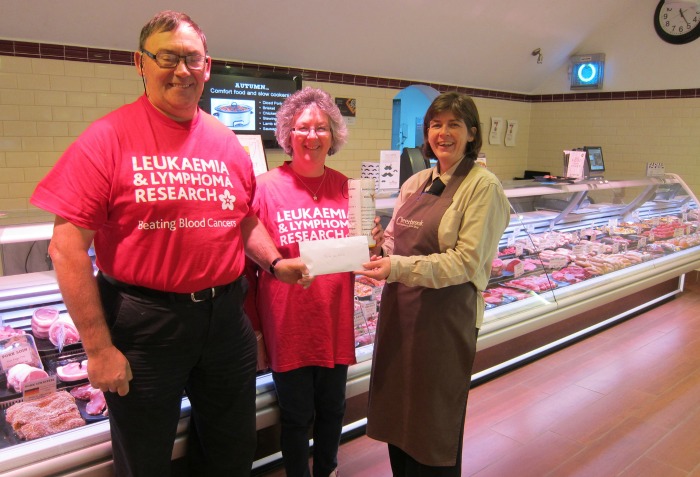 A Nantwich butcher's shop is turning meat bones into brass and raising vital cash for charity.
Cheerbrook Farm Shop, on Newcastle Road, has raised a tasty total of almost £600 for the South Cheshire branch of Leukaemia & Lymphoma Research (LLR) through its innovative 'Bones for Bones' scheme.
The shop's butchery makes fresh bones available for customers to take home for their dogs – in exchange for a small donation to LLR.
"We've been running Bones for Bones for a couple of years now and it's been really well supported," said Cheerbrook owner Andrew Shufflebotham.
"We had always provided bones for customers – they are a natural by-product and our skilled butchers cut through them to maximise taste for our furry companions.
"We decided it was a great opportunity to contribute as a business to a bone-related charity by asking our generous customers for a small contribution in return for each bone.
"There are multiple benefits – the charity receives much-needed funds, we minimise wastage and support our sustainability objectives, and our four-legged friends are kept happy!"
LLR is the UK's largest charity dedicated to beating blood cancer.
Mike and Liz Boffey run the South Cheshire branch of LLR. They got involved after their son Will passed away in 2007, having been diagnosed with acute myeloid leukaemia in 2005.
Liz said: "We are hugely grateful for the ongoing support of Cheerbrook and their Bones for Bones scheme.
"We have first hand experience of what a devastating disease blood cancer is and the work of LLR is vital in inspiring new treatments and better care, driving faster and smarter diagnosis, and championing the needs of all patients."
The South Cheshire branch meets bi-monthly in Nantwich.
It has six members and their fundraising total stands at £10,000 for this financial year.
More details on the work of the charity can be found at leukaemialymphomaresearch.org.uk
Cheerbrook are now hoping to work with LLR to roll out 'Bones for Bones' to other farm shops and butchers throughout the UK.
The scheme supports local farmers by encouraging traditional butchery and it's hoped will become widely adopted.
The Cheerbrook team also raised more than £700 last year for Hope House Children's Hospices through various initiatives including a gingerbread raffle.