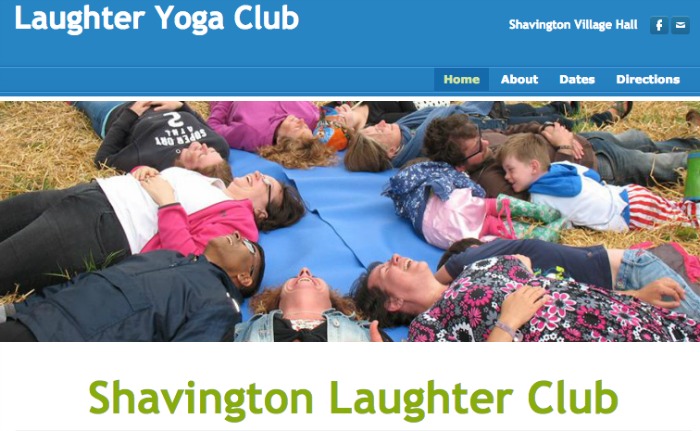 It's a chilly Monday evening and after an early start and a long day at work, it's easier to curl up in front of the fire than head out to a Laughter Yoga session, writes Sara Royle.
Laughter Yoga, or Hasya yoga as it's known in Sanskrit, originated in Mumbai.
It started life in the parks of the Indian city, and in the March of 1995 it took on a more formal structure that would quickly spread in popularity.
But what is it, precisely? And what exactly can the humid heat of a Mumbai park and Shavington Village Hall possibly have in common?
Laughter Yoga, and the clubs that revolve around it, is the act of laughing on purpose.
There are very few rules; simply laugh when you want to and don't laugh when you don't want to.
This isn't an evening at the Apollo and it isn't an improv class (although at times it feels like it); it's just laughing.
When I was first sent an image of the advertisement for the new Shavington Laughter Club, this background wasn't known.
So arriving with a friend at Shavington Village Hall, we sat down with Kathy Herring (the group's founder and leader), and a woman who has attended a previous session.
It's a little cold and we make small talk as the other members arrive.
There are seven of us in total.. so how I'm going to feel laughing in front of this group of strangers?
We first stood in a circle and learned a few laughter chants, which will be used periodically to celebrate our laughing successes, give bursts of energy, or calm things down.
Kathy then leads us through a serious of warm up exercises, all laughter orientated, and then it's time to introduce ourselves.
'Ice-breaker' games are awkward at the best of times, so stepping forward with my name and a 'signature laugh' is a little unnerving. It will then be repeated by the rest of the group as a way of introduction.
I'm first up. I lead with a big belly Santa laugh, which is sent back to me with gusto.
What follows is around 40 minutes of what feels like a mixture of improvisation games and therapy, all with laughing at the centre.
We laugh like pirates, like chickens, like we've just received a Visa bill so large that it's somehow hilarious.
We laugh loudly and quietly and while we're doing the hokey-cokey.
At one point, we make a laughter milkshake – we'd be sent away in white jackets if anybody walked in on us, surely?
But this is the laughter warm up. We're building up to the laugh.
Everybody lies down on yoga mats.
At this point its clear 'laughter yoga' is a misleading title – you won't be expected to contort your limbs while somebody tells you a knock-knock joke!
We're told to just laugh. No funny exercises or games; just laugh.
Kathy starts it off, but it soon spreads like wildfire.
I'm not laughing at anything to begin with, other than maybe the ludicrous situation.
But soon I'm bawling at the sound of my friend beside me, whose laugh miraculously morphs from hyena to Father Christmas in one fell swoop.
I'm almost crying, my abs feel like they're having a legitimate workout, and near the end of the three minutes I'm fairly certain we're laughing the loudest and the hardest.
When it ends, we relax for five minutes as Kathy speaks soothingly about breathing and the cosmos – it's enough to make us very sleepy!
At the end of the session, we talk about the merits of laughing.
Kathy is keen to emphasise that whereas laughter can sometimes exclude or discriminate when comedy is involved, gathering to laugh on purpose is much more democratic.
I like that a lot. Laughter allows us to get out of the busy 'survival' mode that our modern lives demand, and to reconnect with the childish part of us that will laugh at anything at all.
Kathy also extols the virtues of bringing a friend to the groups, as it can make laughing that much easier.
She looks intently at Hayley and me while she says this, confirming my suspicion that our laughter was among the most enthusiastic.
We leave the session with Cheshire Cat grins, donate a voluntary £2, and that night I slept better than I have done in months.
Laughter Yoga is bizarre and wonderful and the most human thing you'll do all year.
So why not be game for a laugh, and give it a go?
Laughter Yoga Club runs twice monthly at Shavington Village Hall.
Dates and times can be found at http://kathyherring.co.uk/