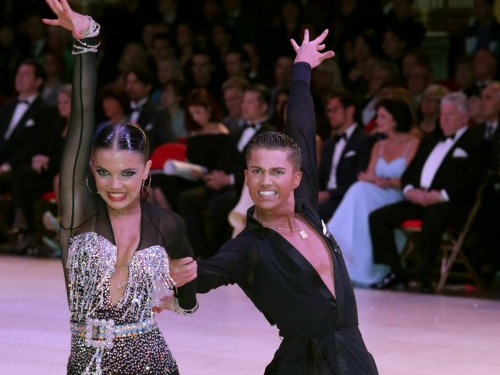 South Cheshire dancing stars AJ and Chloe are to perform in the biggest Youth Latin competition in Europe, writes Kirsty Rollings.
Former Brine Leas student AJ, 20, and 19-year-old Chloe began dancing together over eight years ago, having wowed crowds across the world since with their slick moves.
Now the duo will be taking to the stage at Blackpool on Easter Saturday, in a bid to become European Youth Champions. Previous entry to the competition, saw them achieve an impressive 3rd position.
AJ, from Burleydam, said: "We were pleased and disappointed at the same time when we last entered. It was a great achievement, but we entered wanting to win."
AJ and Chloe rose to fame when they appeared on Britain's Got Talent in 2013, in what outspoken critic Simon Cowell described as a 'faultless' performance.
Training has been intense, with practice taking place four hours a day, and a strict diet to enhance fitness and performance.
Support from Pritchard's Dance and Fitness School, run by AJ's family, has been an integral part of the progression.
Chloe said: "We've been very lucky to have such great support in terms of training from AJ's parents, and his mum who helps with our diet, and his cousin who is a personal trainer too!"
Sponsorship and dancing at events helps to fund their training and performing worldwide.
Travel expenses, lesson costs and costume purchases all contribute to a hefty financial commitment.
The couple suffered a blow recently when they lost some sponsorship.
They are hoping local communities can show their support through inviting them to perform.
The duo have won many titles, including a hat-trick in the British National Youth Latin Champions.
AJ said: "Competing at this level is a dream come true.
"I initially started to dance aged 12, because I wanted to be on TV! Since then, it has quite literally taken over my life, and together, Chloe and I just want to be the very best we can."