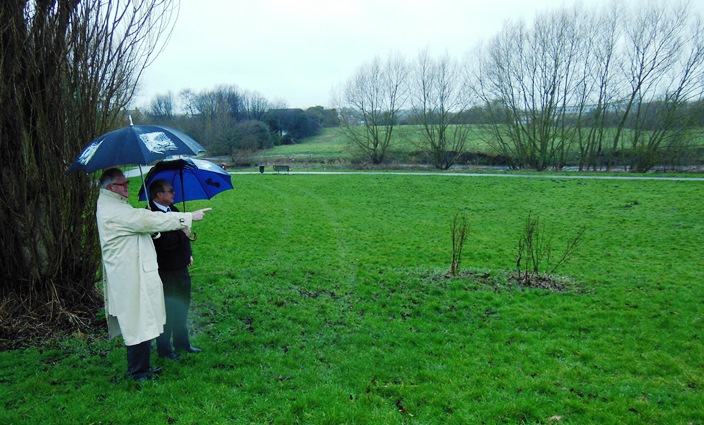 A new car park on the River Weaver flood plain in Nantwich could work, councillors say.
The town council has looked at different sites amid plans to build more parking space for Nantwich town centre visitors.
Councillors say the need for more parking spaces will only increase now the former gasworks land off St Anne's Lane, used by many to park, is to be redeveloped.
One idea was using land behind Nantwich Pool off Wall Lane, close to the River Weaver.
Some residents criticised the idea, as the land acts as a flood plain when water levels are high.
Cllr Peter Groves, who represents Nantwich on Cheshire East Council, said: "We do share the concerns over the closure of the gasworks land as a car park, and we have Cheshire East surveyors to look around for alternative parking.
"I know many people who work in the town use the gasworks site. We need something to alleviate that.
"We desperately need more parking in the town. We have a vibrant economy in Nantwich, but if people can't park they will go elsewhere.
"This will benefit the town all year round – but particularly when major events like the Food and Jazz Festivals are on.
"We think the land behind the pool is an ideal site. Yes, some have raised concerns about it being close to the river, flooded land etc.
"But the people I have spoken to at the council and further afield say there is nothing insurmountable there to prevent us from building a carpark.
"We are keeping an open mind and looking at alternatives, and highways are aware of our issues – particularly trying to resolve parking problems on roads like South Crofts."
A survey was recently carried out on Nantwich town square to gauge public opinion on whether more parking is needed.
Nantwich Town Councillor David Marren added: "I realise some people don't want to see more car parking in Nantwich but many do, so I am keen to see the results of the survey.
"Others have said the site is on a flood plain, which it is, but good design can cope with flood water and also loss of greenness.
"In any event we seem to have moved on from simply complaining about the shortage of parking spaces to one where the issue is being seriously considered and that can only be good."