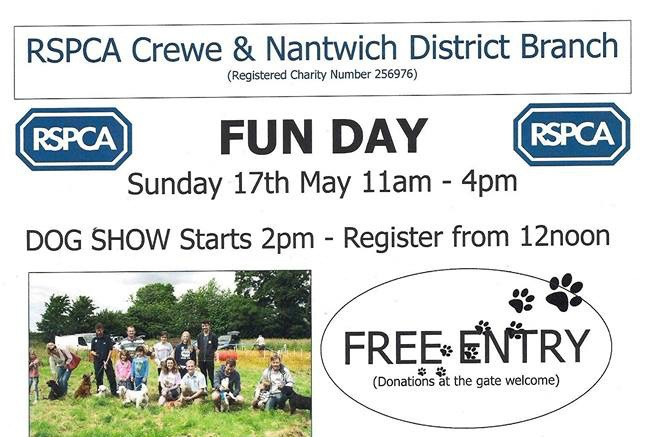 RSPCA Crewe & Nantwich District Branch is staging a Family Fun Dog Show on Sunday May 17, 11am to 4pm.
The show is taking place at Santosha Boarding Kennels & Cattery, on Longhill Lane, in Hankelow, near Nantwich.
The day kicks off at 11am where there will be entertainment including an obedience display and performance by Nantwich band 'Rebuked', fresh from playing at Nantwich Jazz Festival.
There is also a Family Dog Show for anyone to enter that starts at 2pm.
It costs £1 to register your dog and registrations must be done from 12pm on the day at Santosha Boarding Kennels & Cattery.
Classes are: Best puppy under 1 years old, Best veteran over 7 years old, Best biscuit catcher, Best condition, Waggliest tail, Best rescue dog, Best trick, Best young handler, Best small dog, Best large dog and Best six legs.
Local horticultural supplier Homefeeds is supporting the RSPCA on the day and as well as a donation, they are giving a goodie bag to the first 200 people (and dogs) who sign up for the Dog Show.
Other attractions include a qualified behaviourist, raffle and tombola, free microchipping, various stalls, and refreshments.
You can also meet the RSPCA dogs and cats needing new forever homes.
For more information visit the RSPCA Crewe & Nantwich District Branch Facebook page.