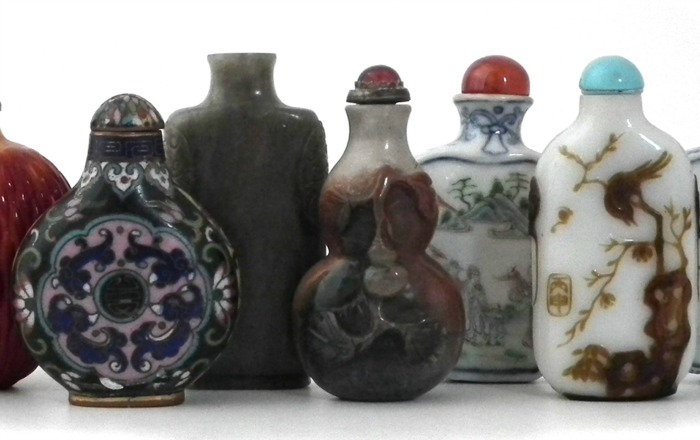 A rare collection of Chinese snuff bottles could fetch more than £25,000 at a Nantwich auction.
The collection, which dates back almost 80 years, was bought by author Marjorie Hessell Tiltman during a visit to Tientsin in 1937.
It consisted of antique Chinese snuff bottles in jade, porcelain, semi-precious gemstones and glass.
Marjorie died in 1999, aged 98.
Now, her nephew, who lives in Broxton, Cheshire, has decided they should find new homes.
They will be offered in a sale at Nantwich auctioneers Peter Wilson on July 8, when they are expected to raise a total of around £25,000.
Back in 1937, Marjorie paid 250 Chinese dollars for them.
Ornate snuff bottles are small enough to fit in the palm of the hand, and were popular during the Qing dynasty, a period when tobacco was banned but taking snuff permitted because of the belief that it cured common ailments.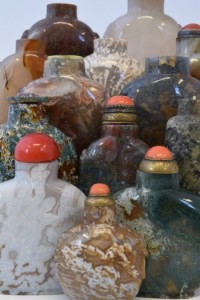 Marjorie's collection will be sold in 46 lots, most valuable of which is glass bottle with basket weave decoration in red and orange in imitation of Realgar, a mineral also known as "ruby of arsenic".
It has a green malachite effect stopper and is estimated at £1,200-1,300.
Marjorie was born in Stourbridge in 1898, moving to Birmingham and then London when her father opened antiques shops.
She married in 1925, by which time she had already started her career as a novelist.
Her journalist husband was three times president of the Tokyo Foreign Correspondents' Club and spent time in Manchuria, where the Japanese secret police accused him of being a spy.
After leaving China, Marjorie settled in Pulborough, West Sussex, where she continued to write.
On her death in 1999 she bequeathed £100,000 to the PEN Literary Foundation to found a prize in her name.
The Hessell-Tiltman prize of £2,000 is awarded annually for a non-fiction book of specifically historical content.
The snuff bottle collection will be on view alongside some 478 lots of fine art, antiques and collectors' items in the sale.
They go on display at the auctioneers Market Street rooms in Nantwich on Sunday July 5 from 2-4pm; Monday July 6, 10am-5pm; Tuesday July 7, 10am-4pm and on the morning of the sale from 9am-11am.