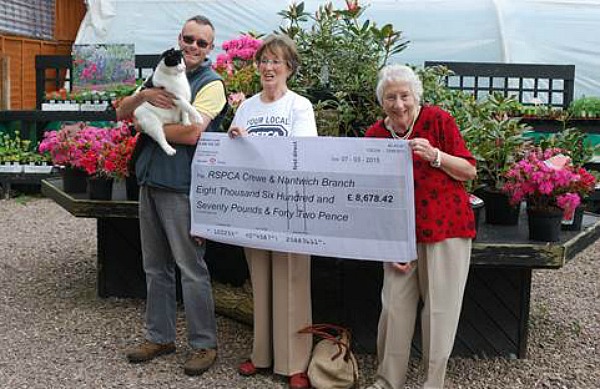 The RSPCA Crewe, Nantwich & District Branch has been given a massive boost with an £8,600 donation from a local garden centre.
Rising Sun Nurseries in Wistaston has collected the money over the last few years.
It has staged events such as successful book sales as well as extra public donations.
The total of £8,678 will help the local RSPCA branch support work to care for, rehabilitate and re-home local animals in need.
RSPCA branch trustee Mandy Hill said: "Each cat we take into our care costs us at least £150 – vet health check, neutering, vaccinations, any other medical costs, as well as the housing, food, litter and general care they need until they are rehomed.
"Dogs can be significantly more – such costs are never fully covered by the rehoming fee we receive from adopters.
"The branch is run solely by volunteers so every penny given is spent directly on animals in our care.
"Like all RSPCA branches, we struggle for funding to continue the work as we do not receive any government funding.
"The financial support provided by supporters like the Rising Sun Nurseries allow our local branch to survive and work for another year, making a real difference to the numbers of local animals that we can help."
Pictured (above) is Rising Sun Nurseries owner Mary and her son Andrew handing the cheque to Yvonne of RSPCA Crewe & Nantwich.
The branch continues to appeal for new volunteers.
To see their work, donate or to see animals looking for new homes, visit www.rspca-crewenantwich.org.uk