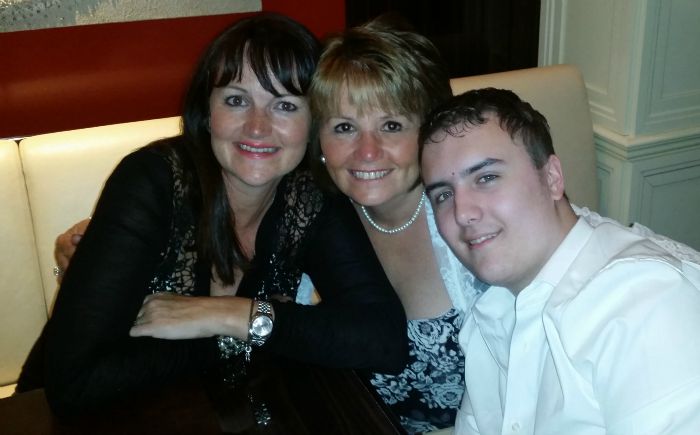 A brave teenager from Nantwich is set to plunge 15,000ft on a sponsored skydive – despite battling a rare life-threatening condition.
And Jack Carter, from Stapeley, is being joined on the daredevil jump by his grandma – 64-year-old Janet Barham.
Jack, 17, was diagnosed with the very rare genetic, neurodegenerative condition called Friedriech Ataxia (FA) when he was at primary school.
There is still no treatment or cure for this debilitating illness.
However, Newcastle-under-Lyme College student Jack is not letting that get in the way as he prepares to leap from a plane on tandem skydive at The Black Knights Skydiving Centre in Lancaster on August 1.
As well as his gran Janet, of Wybunbury Lane, Jack is being joined by friends who have known him since their days at Weston Primary School.
Jack's mum Deborah Taylor. who is herself battling breast cancer for the second time, is leading the fundraising charge in aid of Ataxia UK.
"This debilitating disease slowly day by day, month by month and year on year robs Ataxians of their independence, making them completely reliant on others for everything we all take for granted," she said.
"Clinical trials are underway but like all rare diseases funding is critical for a drug to be discovered, tested for safely before finally taken to the medical market for a treatment to be used to stop progression.
"So it really is a race against time now for Jack to benefit from a breakthrough in his lifetime and for all the other children still yet to be diagnosed."
The skydive fundraiser, called "The Jumping Jack Sevens", also includes four of Jack's friends, who he has known since primary school where he was first diagnosed with FA.
"I won't be skydiving as unfortunately I've been re diagnosed with stage 4 breast cancer so currently on treatment," added Deborah.
You can visit Jack's fundraising page https://www.justgiving.com/Thejumpingjacksevens-jack or text JKWC97 a donation to 70070.