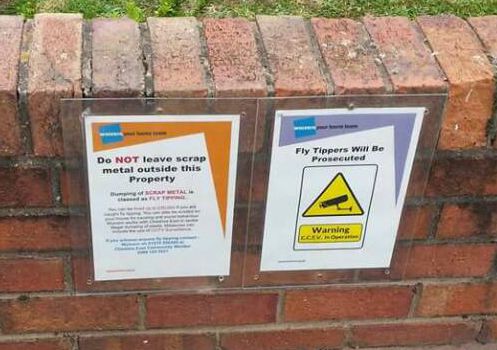 Wulvern Housing chiefs have pledged to remove signs and CCTV from scrap metal collector Michael "Flash" Meakin's Nantwich property if fly-tipping stops.
Thousands of residents have protested at Wulvern after they installed the signs and a camera outside Mr Meakin's home on Gerard Drive.
They also erected a metal bollard to prevent vehicles dumping metal outside residents' garages.
They say they responded after a "series of incidents" and "numerous complaints" where police were called, including a late-night incident "regarding the dangerous and noisy disposal of hazardous goods".
But bosses have been stunned by the amount of support for Mr Meakin, who has collected scrap metal for almost 50 years.
More than 3,000 people have signed a petition objecting to the way Flash has been treated.
It has also emerged the CCTV camera installed by Wulvern on a property opposite is a 'dummy' one.
Wulvern says the dummy camera is "the first step" in tackling reports of fly-tipping in an area.
"We hope this sorts the problem out and then the signs and camera can be removed," a spokeswoman said.
"The resident whose house the camera is on is aware that this is a dummy camera and was supportive of this."
Wulvern also says all residents, including 73-year-old Mr Meakin, have a key to the metal bollard installed.
"If the fly-tipping stops, we will remove the signs and dummy cameras. After all, this is a preventative measure to tackle fly-tipping in this neighbourhood.
"Mr Meakin himself has told us this is out of his control and he cannot stop people dumping their waste.
"We are not stopping Flash carrying out his scrap metal business – but what we are doing is supporting our residents in tackling fly tipping in their neighbourhood."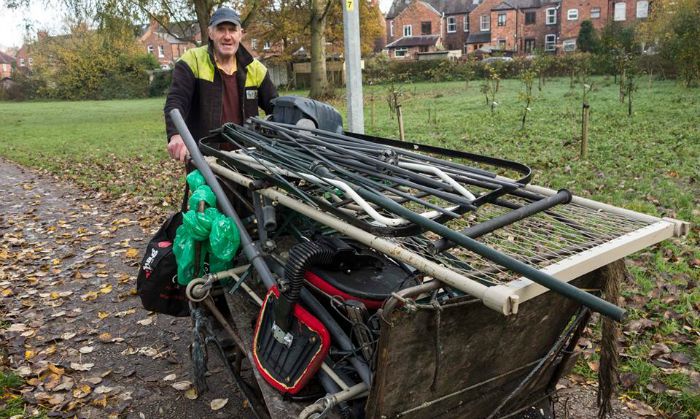 Mr Meakin has been well-known for decades, pounding the streets of Nantwich with his trolley collecting scrap metal from people's houses and off the streets.
Nicole Kershaw, Wulvern's executive director of customer and homes, said: "Following a series of incidents at Mr Meakin's property where the police attended and numerous complaints from those affected by the disposal of the waste, we have worked with partners to clear up the area and taken action to prevent further fly-tipping for the safety of everyone involved.
"We appreciate the support Mr Meakin has, please be assured this action is to stop those responsible so we can safeguard his own wellbeing as well as those affected."