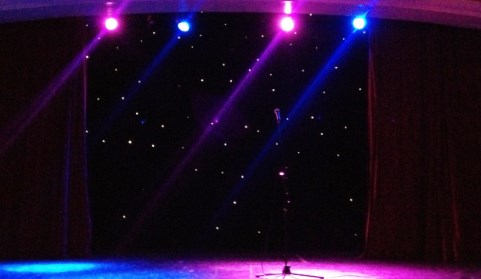 Four top comedians had Nantwich in hysterics as the new season of Very Best in Stand Up launched into another rip-roaring season.
Funnymen Sam Avery, Steve Shanyaski, Andy Robinson and Adam Bloom added nicely to the packed crowd's food festival mood at Nantwich Civic Hall.
Likeable Scouser Avery, compere for the evening, provided an excellent link for the performers, entertaining us with anecdotes of fatherhood.
Despite the bags under his eyes, as he described himself, his experience of having twins had many of us in stitches!
First on stage was Shanyaski, who soon caught the mood and make-up of his audience perfectly.
The recently-married Mancunian played out brilliantly a series of sketches, particular highlights included his wife's drunken arrival after a night out, and the "breath barrier"!
Brummie Robinson's laconic, sarcastic delivery is fantastic, but the former DJ is much more than that.
Originality is hard to come by in live comedy, but his sketch about "modern music" and guitar-playing Fingers McGee was quite brilliant.
Edgy headline act Adam Bloom burst onto the stage in a bundle of hyper-activity which left the audience bewildered.
He is not everyone's cup of tea as last night proved, but Bloom's energy and razor-sharp wit and observation are admirable.
Some of his gags were side-splittingly funny, and he is not afraid to really push humour to the limits of taste and decency! Well worth a viewing when he returns.
Once again, Civic Comedy promoters delivered an excellent package for incredible value last night (September 4).
The next show in October is a must – the line-up includes Phil Ellis, Lloyd Langford, Dane Baptiste and Joe Lycett