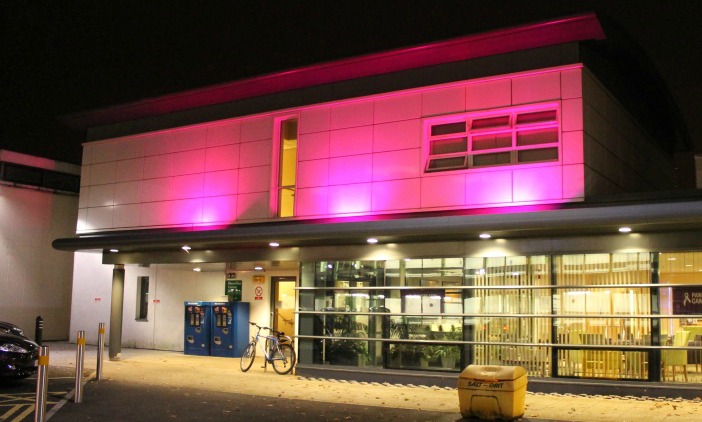 South Cheshire's cancer unit has been illuminated purple to raise awareness of pancreatic cancer.
The Macmillan Cancer Unit at Leighton Hospital will be lit purple every evening in November as part of a campaign being run by Pancreatic Cancer UK for Pancreatic Cancer Awareness Month.
Purple Lights for Hope launched last year to celebrate the lives of those dealing with pancreatic cancer and to remember those who have died of the disease.
It also aims to spread a message of hope.
The Macmillan unit, run by Mid Cheshire Hospitals NHS Foundation Trust (MCHFT), has joined dozens of organisations and landmarks across the country, including Blackpool Tower and Edinburgh Castle, for the scheme.
Del Owen, clinical nurse manager at Leighton, said: "We have a large proportion of patients who present pancreatic cancer symptoms too late or who don't get checked out.
"We want to encourage those displaying symptoms to present themselves earlier so that, if needed, they can be diagnosed and treated quicker.
"A quicker diagnosis leads to a better outcome."
Pancreatic cancer is the 11th most common cancer in the UK with around 8,800 people diagnosed every year – the equivalent of 24 people every day.
MCHFT is also setting up a Pancreatic Cancer Support Group, which will be holding its first focus group on Tuesday November 17.
The meeting will take place at the Macmillan Cancer Unit at Leighton Hospital between 6.30pm and 7.30pm.
For further details about the support group, call Vicky Woodall, Clinical Nurse Specialist, on 01270 273803.
Further information about pancreatic cancer, including symptoms, can be found at www.nhs.uk/conditions/cancer-of-the-pancreas