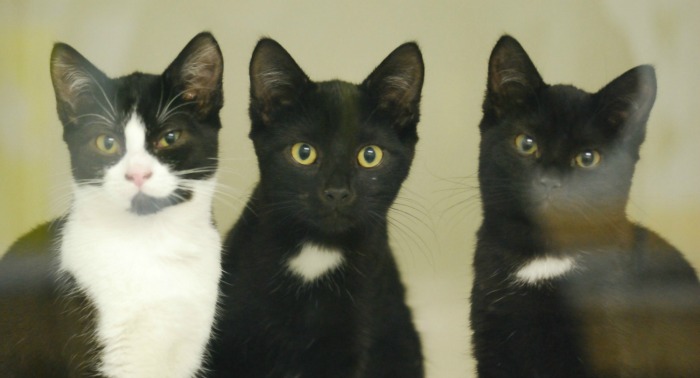 A cat and her three kittens found dumped in bin bag in the road, are being cared for by RSPCA staff in Nantwich.
The RSPCA is now appealing for information after the animals were found by a member of the public in Cheshire.
The cat family was found at 11pm on January 28, on the A559 Manchester Road, in Lostock Gralam, Northwich.
The mum – aged less than a year old – was wearing a plastic red collar with a diamante design on it.
All of the cats were found in reasonably good health.
The mum has been rehomed, with the four-month-old kittens – two females named Cherry and Damson and a male named Quincy – now at Stapeley Grange Cattery in Nantwich.
RSPCA inspector Nadine Pengilly said: "These animals were found in a bin bag in the middle of a road at night so it was obviously dark.
"They could easily have been hit by a car and killed.
"It seems unlikely this was anything other than a deliberate act and of course we want to hear from anyone with any information.
"Neutering your cat is so important.
"If people acted responsibly and got their animals neutered then we wouldn't have so many animals being discarded like a piece of rubbish.
"People should do all they can to prevent unwanted litters of kittens in the first place – there is plenty of help available with neutering, so there really is no excuse."
Those found guilty of causing unnecessary suffering to an animal could face a maximum six month prison sentence and/or a £20,000 fine.
Anyone who has any information about the cats is asked to contact the RSPCA appeals line in complete confidence on 0300 123 8018.